What is a Sneaker Bot?
Have you ever tried to get a newly released pair of sneakers? If you have, you must have noticed that they get sold out in a matter of milliseconds. And it's not just because they get released in limited editions and other sneakerheads are super fast to get them. It's because you're not competing with other people. You're competing with sneaker bots.
In short, sneaker bots are computer software that automatically completes all the checkout process on online sneaker stores. The software is powered by sneaker proxies, so it can simultaneously complete multiple purchases and appear as a real user, just much faster.
If you're not yet a sneaker bot user but thinking about cooking shoes, you're in the right place.
How does a sneaker bot work?
Sneaker bots act just like any other sneaker buyer, except they do everything much faster. They go through the exact same process as human customers: add to cart, fill out their details, and check out. The reason why this path is available for the bots is because retailers themselves use the bots to try out their systems and their load. Their bots go through the entire buying process, opening the path for the sneaker bots to do the same during the hottest drops.
Automated bots are not just faster than any human buyers. They're also much more persistent. When limited edition sneakers show up on an online store, and too many people put them into their shopping carts, they may appear out of stock. In that case, the bots continue refreshing the page until they reappear. 
To be able to perform many actions at the same time, footsites bots need to act as many ordinary users. If you, as a buyer, connect to the website with one IP address, sneaker bots need to have multiple IPs that come from residential addresses. Otherwise, the bots will get blocked right away.
To appear as regular users, sneaker bots use residential IP addresses, also known as residential proxies or sneaker proxies. Internet Service Providers (ISPs) assign these IPs to all residential home addresses that use the internet. The IP owners can then agree to allow their IPs to be used as proxies. 
The best thing about residential IPs is that they come from all over the world. For example, if the best sneaker drop happens in the US, it may be limited to those who connect to the sneaker website from the US. How to get in? All you need is a residential proxy from the US.
Are sneaker bots illegal?
Bots are not illegal. You can get them anywhere on the web, or you can buy sneaker proxies and build the bots yourself. 
Automated bots get blocked because they may go against the sneaker site's terms and conditions. Online stores also don't like sneaker bot traffic because it may slow down their websites.
The footwear industry is well-aware of the situation and tries to combat sneaker bots. The sneaker shops may add new terms of service, but they still want the buyers to be able to get their products. 
So sneaker bot developers update the bots depending on the new terms of service, make them look like real users, and successfully continue copping the latest sneakers.
Cook groups
If you wonder where the sneakerheads get all the information about the upcoming sneaker drops, bot releases, and early links, the answer is cook groups. 
A sneaker cook group is a chat or a community on Slack or Discord, where resellers, buyers, and other sneakerheads share insider information about all things related to sneaker releases. 
You'll find all sorts of people in these groups. Some of them resell sneakers for a living. Others have enough money to get multiple sneaker bots for their own fun. But the best thing is that all these people get together in the cook groups and share their knowledge with other sneakerheads.
Some sneaker bot providers add you to the group or channel once you purchase your bots. Otherwise, you can try and get into the group yourself by being active on Twitter and Discord when the conversation goes around sneakers. You may also buy a membership that allows you into a cook group.
Cook groups are a good place for both beginners and experienced sneakerheads because it's the place to gather important information, get community support, and meet other bot users.
How to get a sneaker bot?
You can get sneaker bots in two ways:
Purchase a sneaker bot on the market
The reality is that most of the sneaker bots end up on the sneaker reselling market and can raise the sneaker bot cost more than ten times. 
To get a first-hand bot is almost as hard as getting the limited edition sneaks. Only a limited number of the bots are released, and the best way to learn about them is by checking Twitter and joining private groups because they are the most common bot marketplaces. 
The most popular sneaker bot brands are AIO Bot, Another Nike Bot, BetterNikeBot (BNB), and EasyCop, to name a few. Most brands specialize in different sneaker websites. Some bot services don't offer Nike bots, but most of them have Shopify bots. So it's important to check what online shops your chosen bot operators support. 
The internet is full of sneaker bot reviews, which is a good place to start if you're looking to cop sneakers.
Build a sneaker bot yourself
To build a sneaker bot, you'll need a good knowledge of coding. Or watch a lot of YouTube videos. Just to give you a sense of what building a bot includes, think of the steps your bot will need to take to make a purchase. It will have to automatically login to a website, find a product and add it to the cart, input the payment and delivery details, and submit the order.
You will also need proxies. Online stores don't like bot traffic, so your bot will get banned in a blink of an eye. The best proxies for sneaker copping are residential proxies because they are genuine IP addresses provided by ISPs. 
Once you build the bot, it's also important to remember that sneaker websites often change their ToS. This means that your bot may need frequent updates to be able to do the job. Different shoe sites may also use a different logic, so you need to make sure that your sneaker bots work on specific websites.
What are the most popular sneaker bots?
The market is full of sneaker bots. Some of them are cheaper, and others cost a small fortune. And even the expensive ones may fail you when you want to snatch your dream sneaks because many online stores implement very high bot protection. A lot of sneakerheads use multiple bots to ensure they get the sneakers they want. 
To help you get a better understanding of the market, here are five sneaker bots worth your attention:
Cybersole AIO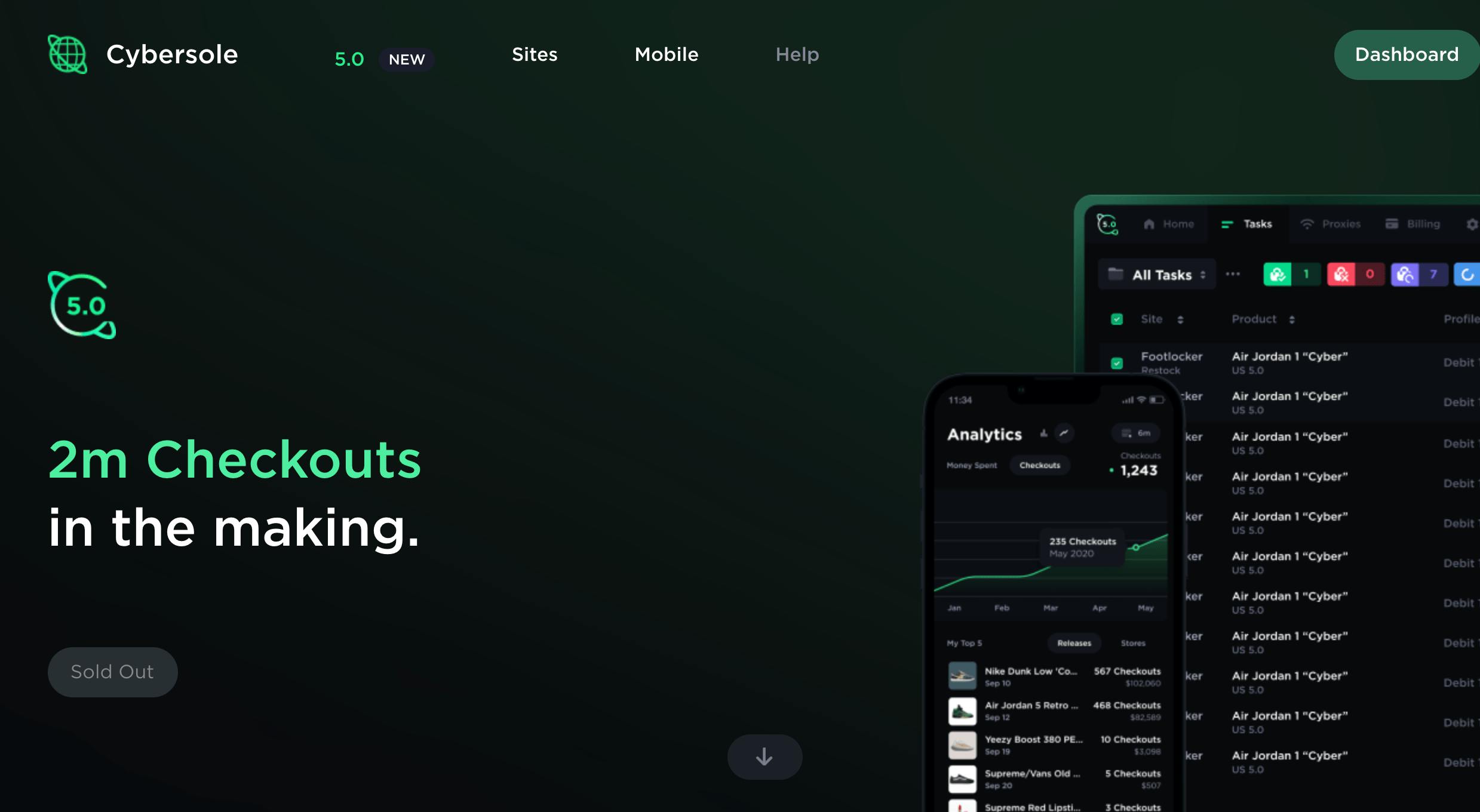 Cybersole is one of the most popular sneaker bots because of its high success rates and convenient interface. You can manage your bot via a mobile app. The bot supports over 170 retailers, but Cybersole doesn't support Nike or Adidas bots. 
The bot originally costs £300 (around $400) for the first six months and then an additional £100 ($130) every six months. If you get Cybersole on the secondary market, be ready to pay at least ten times more. The average price goes around $6,000.
GaneshBot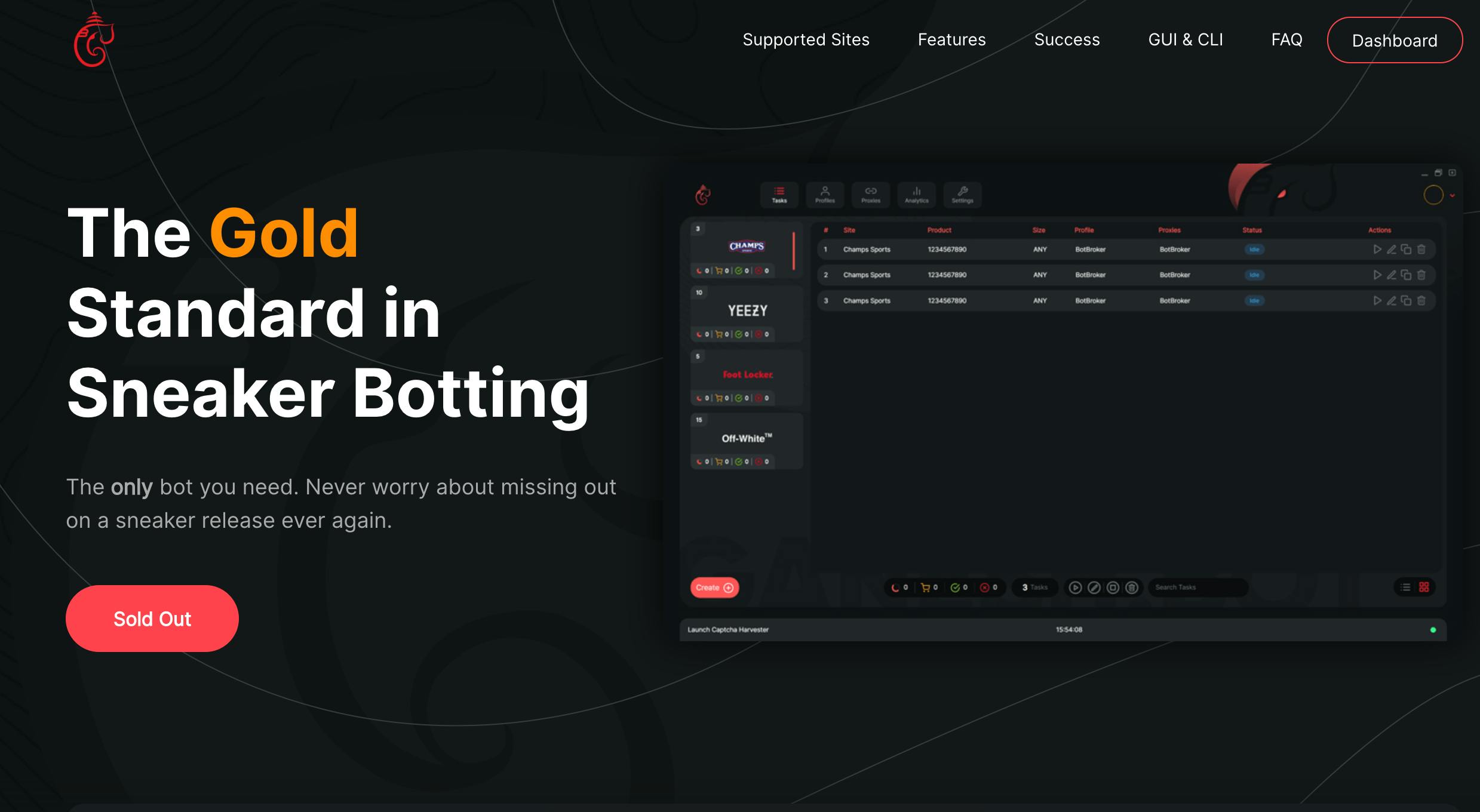 Ganesh is a well-performing sneaker bot for the EU market. If you're based in the US, you'll need to take care of reshipping your newly copped sneakers. 
The bot costs around £550 ($750) if you manage to catch it when they restock. Resellers price for the bot starts at $5,000.
Ganesh bot is easy to use because they offer a user-friendly dashboard interface. You can also choose to view the command-line interface if you prefer.
AIO Bot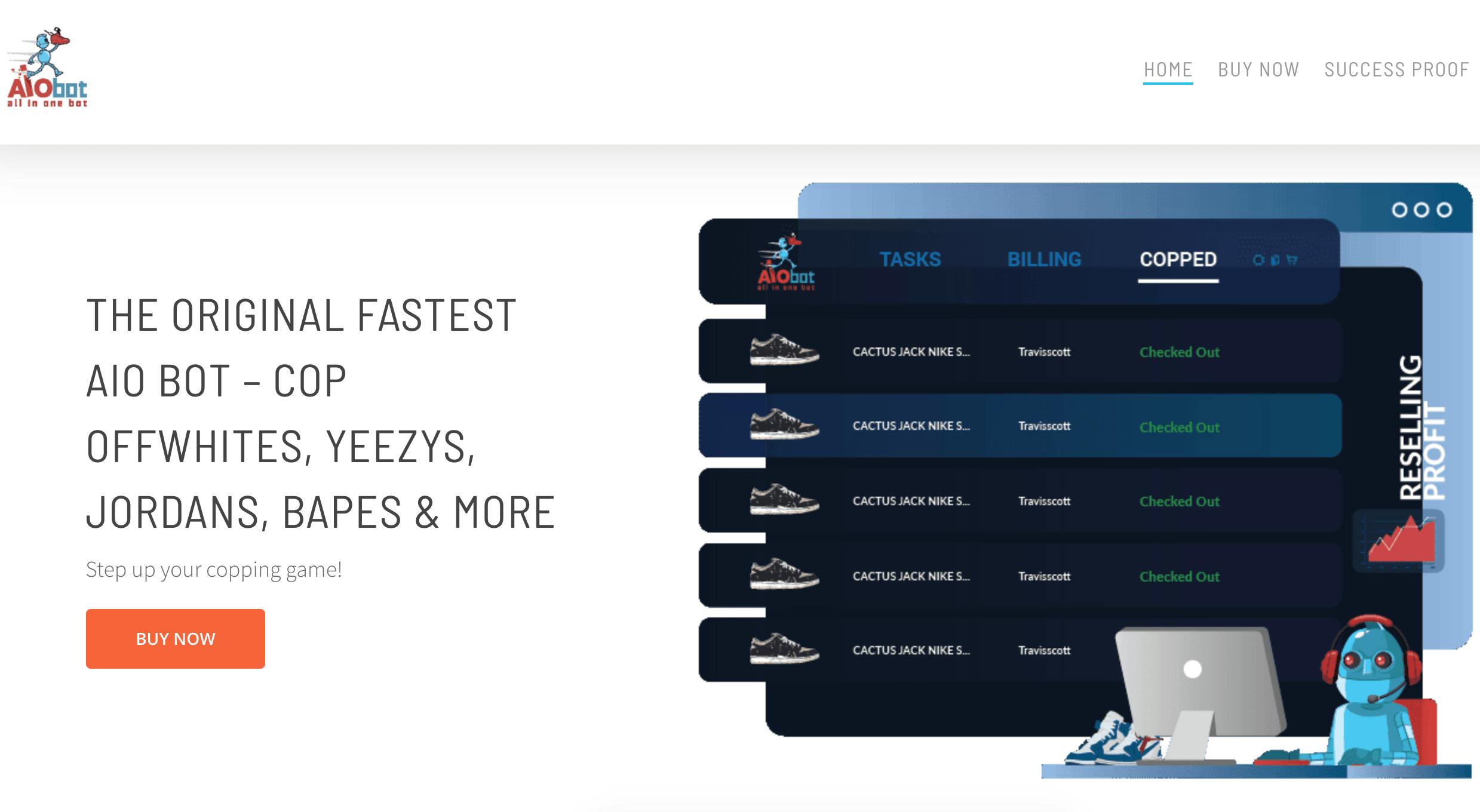 All in One Bot is one of the oldest players in the market, around since 2014. The bot supports over 200 sneaker selling websites. 
One of the best things about AIO is its availability. It's not a struggle to get the bot first-hand on the original website. You may even get a discount. They are also easy to use, which makes them the best sneaker bots for beginners.
The bot costs $325, and all users get added to a Discord cook group to chat with the sneaker botting community.
Kodai AIO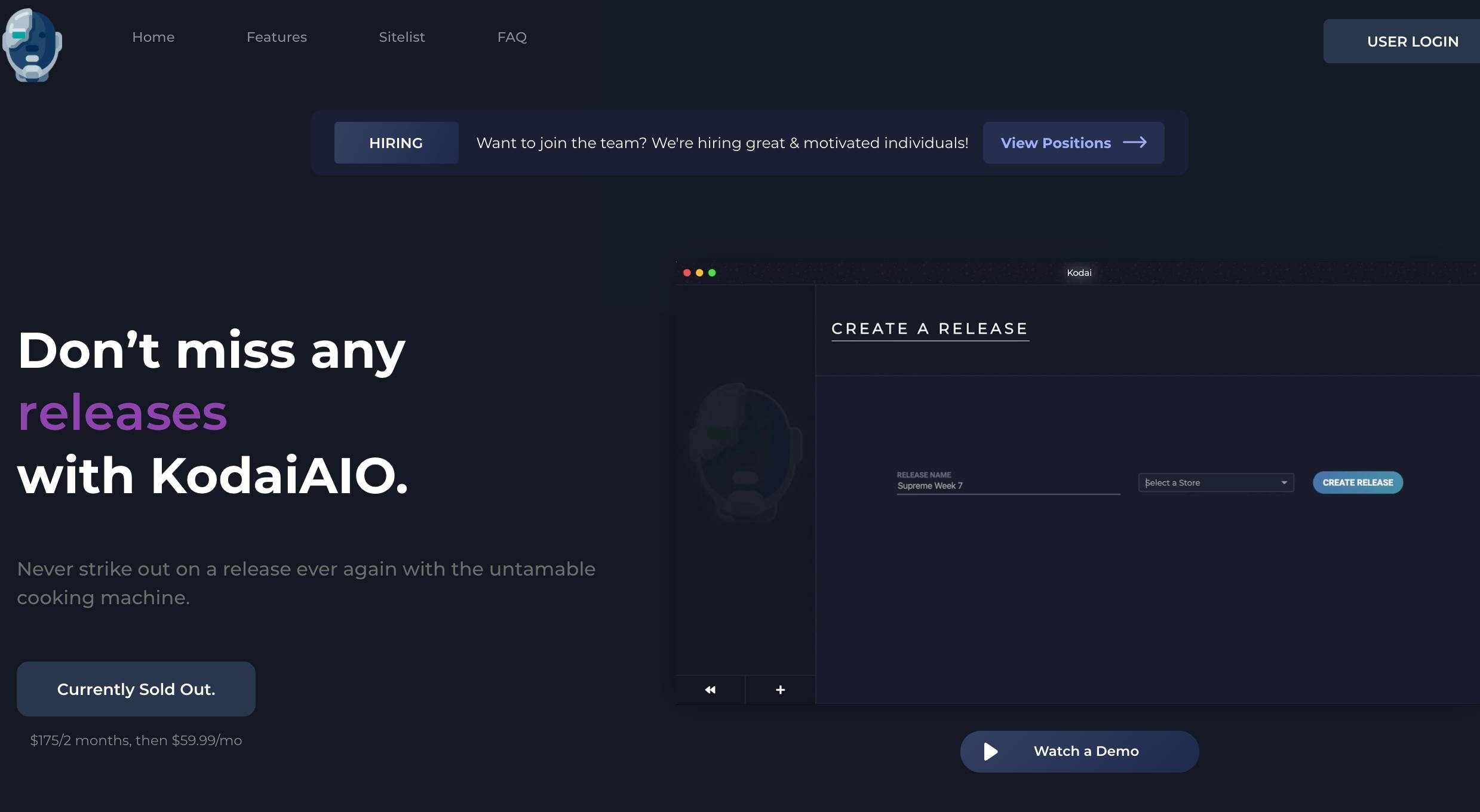 Kodai is a lesser-known brand compared to the ones we've already mentioned. But they're no less good than the other ones. Kodai performs best on the US footsites. It has a dashboard where you can learn about upcoming drops and follow your bot's performance.
Surprise, surprise, Kodai bots are sold out most of the time. They restock once a month, and they announce it on their Twitter. The bot costs $175 for the first two months and then $59.99 a month, which is on the expensive end of the sneaker bots.
Nike Shoe Bot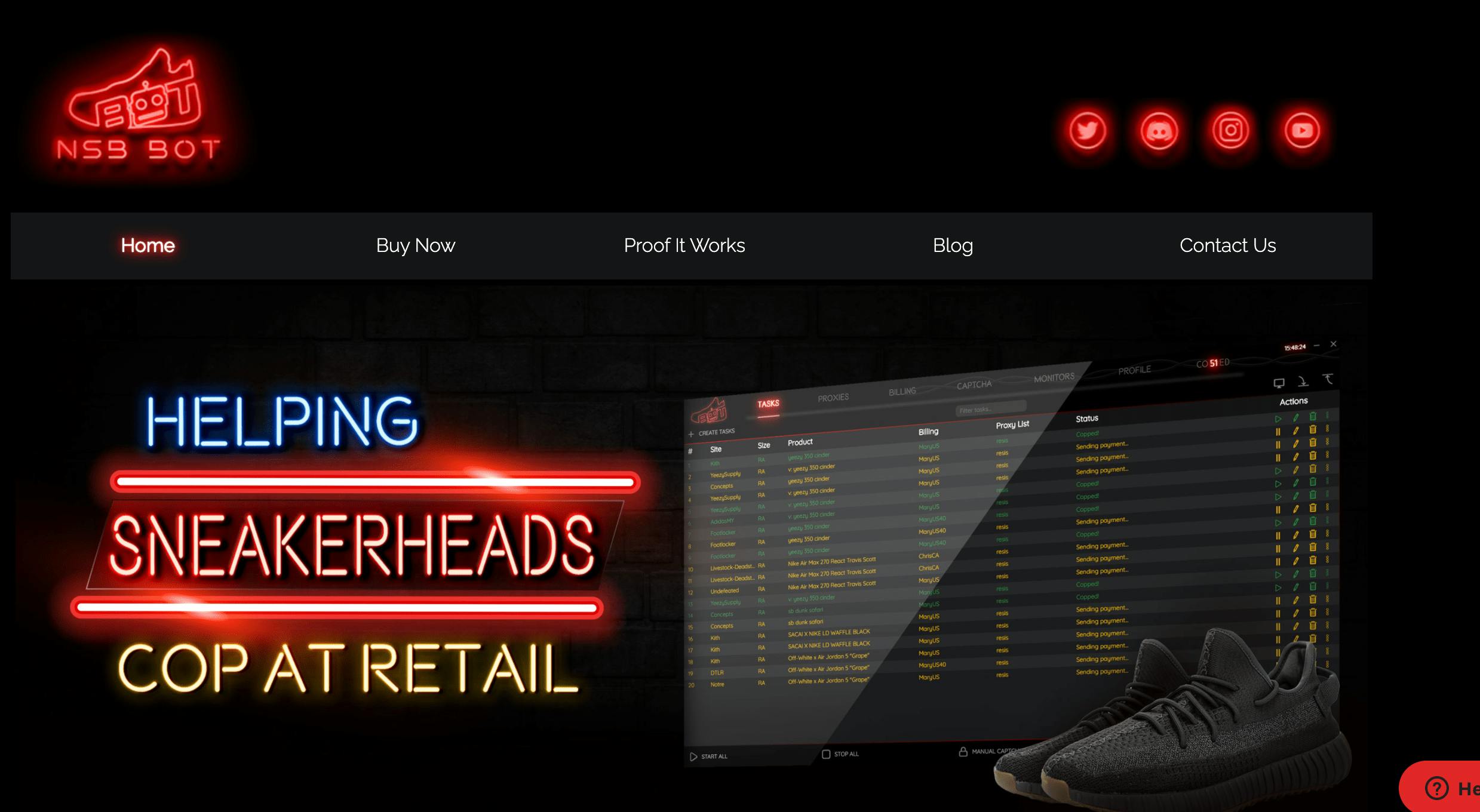 Nike Shoe Bot (NSB) has everything you may want from a sneaker bot - good success rates, availability, support, and user-friendly interface. If you're just starting in the sneaker copping game, NSB is a good choice.
NSB costs $499 a year and does not have any update fees, which is common among other supreme bots.
Solving and avoiding CAPTCHA
Sneaker bots are not enough to get you the sneaks. You need multiple IP addresses, also known as proxies. 
Retailers flag IP addresses that send too many requests because they recognize the automated traffic and treat it as suspicious activity. As bot protection, the websites give a CAPTCHA to solve. And this is something that most sneaker bots cannot do. To avoid CAPTCHAs, you need to change your IP addresses. 
Residential proxies are the best solution for sneaker copping. They come from ISPs and are connected to a residential address, so they help your bots appear as regular internet users. 
How to choose a good sneaker proxy? 
First of all, choose a reliable proxy provider. Good indications are 24/7 support and positive reviews.
Check how big their proxy pool is. The bigger the pool, the better chances you have to land your sneakers. More proxies also cover more locations.
Make sure your proxies aren't shared. Shared proxies mean they will work slow and may be throttled.
What are the best proxies for sneakers?
ProxyDrop specializes in sneaker proxies and offers everything you may need to snatch the sneaks you want.
With a pool of over 28M of proxies, you can be sure to get unbanned and unthrottled proxies from anywhere in the world.
The customer support is always ready to help and share their knowledge to make sure you make the best of your proxies.
Our proxies are fast. To get the best speed for the proxies, ProxyDrop targets the nearest server based on your location.
If you're looking for the best sneaker proxies, check out what ProxyDrop has to offer. Choose between different proxy types, depending on your needs. If you're not sure what option is the best for you, be sure to get all the support you may need.