How to Rent a Sneaker Bot?
Sneaker bots give life to the entire copping industry. Ever since they appeared on the scene the sneaker industry has changed for good. Nowadays sneaker bots have become a necessity even for those who want to cop one pair.
Unfortunately, since the resale industry is so large, bot creators can charge a huge amount for their software. In addition to exorbitant prices, developers often force the bots out of stock to create even more demand. As a result, sneaker bot rental services have popped up.
How does sneaker bot rental work?
While most bots limit users to one machine, some allow people to activate licenses on several computers. In either case, there's barely any tracking or other type of monitoring going on. If someone purchases a bot license, they're not tracked to see who activates it.
As a result, some users opt to purchase numerous licenses of bots and rent them out for people who want to cop for shorter periods of time. While you can essentially get sneaker bot rental from anywhere, there are dedicated websites for doing so.
Note that long-term sneaker bot rental will always be more expensive than buying the license. That's how the people doing sneaker bot rentals make money. Renting bots is generally only worth it for those who want to try out sneaker copping or those who want to get just a pair or two. 
For reference, the prices for popular bot rentals average around:
Wrath AIO - $7 per day,
NSB - $5 per day,
KodaiAIO - $7 per day,
ANB AIO v2 - $5 per day,
EasyCop Bot - $6 per day.
These prices aren't static, but they will rest somewhere between $5 and $10. Renting a bot, therefore, is perfect for those who want to learn more about the industry and software.
Additionally, most bot licenses are sold for 6, 12 or even more months. There is no guarantee that developers will continue updating their bots, however, so you're never sure if you'll get all that you paid for. Since rentals only last for a few days or weeks, you're nearly always getting your money's worth.
Top sites for renting a sneaker bot
Tidal Rentals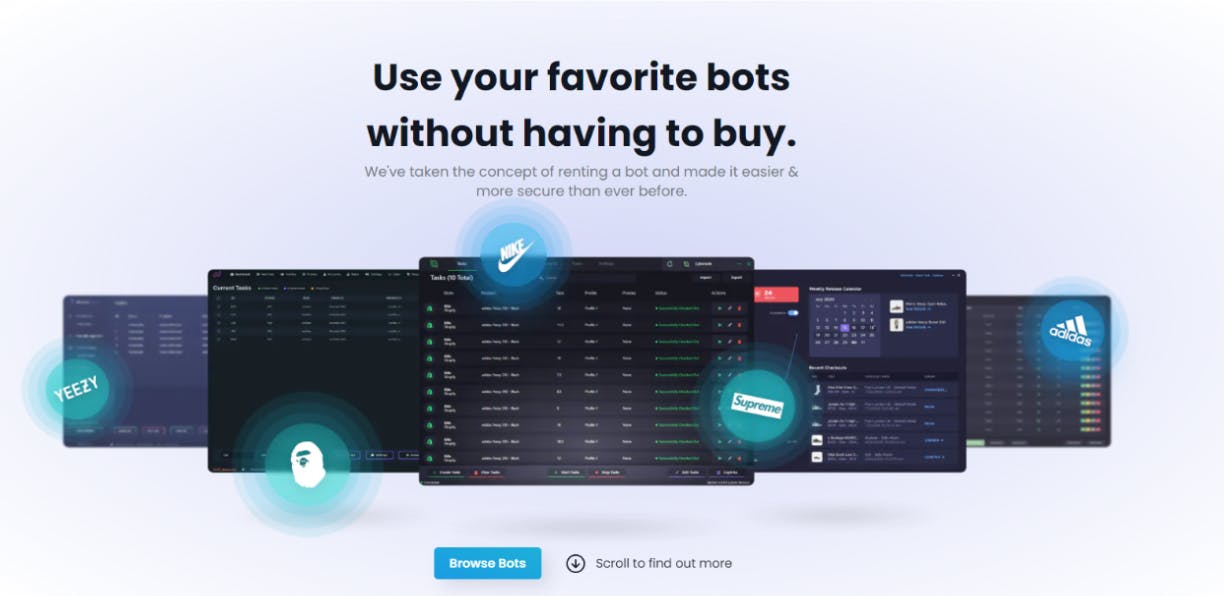 It's the Amazon of sneaker bot rental websites. Tidal Rentals has become one of the most popular places for all bots, rental services, and copping enthusiasts alike. They're one of the oldest marketplaces and have been operating without any reputational issues for the longest time.
Additionally, it's the spot where you'll find the largest sneaker bot rental collection. CyberAIO, Polaris, EasyCop Bot, Nike Shoe Bot, and more are all available on Tidal. They even have implemented a handy search and filter function that allows you to narrow down your needs to find the perfect bot rental solution.
Easy Rentals

Easy Rentals is a bot rental marketplace that lets sellers list their sneaker bot(s), similarly to ecommerce websites like eBay. Unlike many other websites, they've invested a lot into the user experience of sneaker botting rental. Purchasing is quick, easy to grasp, and safe.
Additionally, they provide some data on your purchases such as the time limit, price of the rental, how many bots are available, etc. Easy Rentals will also stock most of the popular bots, so you don't have to worry about being unable to find the one you want.
Whop IO

Whop IO is a general purpose marketplace for digital products, which includes sneaker copping software rental. While they have focused on a larger offering than just bots, they still are one of the best choices out there.
You'll have to look a bit harder than on other platforms, but all the popular bots are there. In fact, Whop IO might have a few bots that the other entries in the list don't, such as KodaiAIO. Otherwise, it's a safe marketplace with a great UI and UX. 
Pookyy Rentals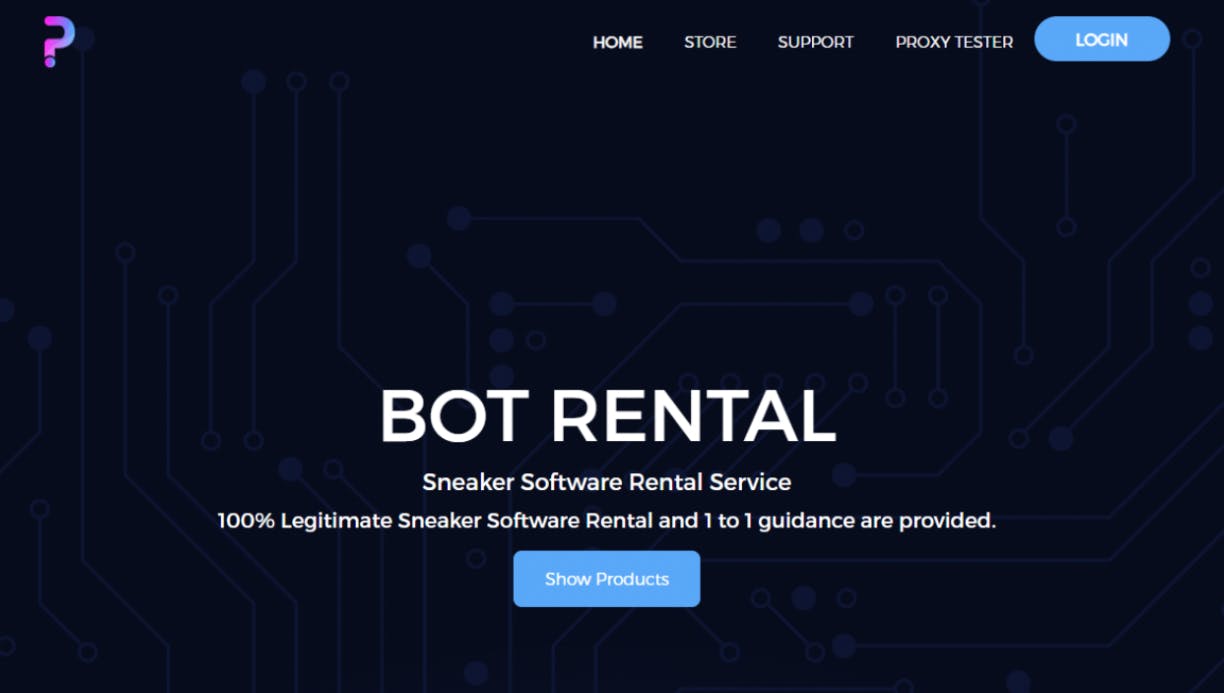 Pookyy Rentals is our final entry into the list. They're another marketplace, but with a special feature - they offer a lot of guidance. Outside of the proxy tester listed on the website, they provide 1 on 1 coaching for all of the bots on their website, making it perfect for newcomers.
Their prices might be a little higher than the competitors with some bots reaching up to $30 per day, though. For beginners, however, that slightly higher price tag might be worth the money to get that coaching. Finally, just like with most other platforms, you'll be able to find most if not all of the popular sneaker bots.
Proxies for sneaker bots
An essential part of sneaker botting is the usage of proxies. Every bot will send hundreds if not thousands of requests to a sneaker site during a drop. These sites are wise to the usage of automation and will ban any IP addresses that keep hammering them with requests.
To avoid these bans, proxies for bots are deployed. They let you change IP addresses on every request or whenever you deem necessary, tricking sneaker sites into thinking a new user is connecting each time. Additionally, proxies come with the added benefit of allowing you to change locations.
Since some sneaker sites limit purchases to specific geographic regions, being able to pick a location that is allowed to purchase pairs comes in extremely handy. Finally, with a proper provider and carefully selected proxies, all the other bot protection methods such as CAPTCHAs will appear less frequently, allowing you to maximize your copping.