How to Test Proxies
Proxy testing is an essential part of any task you do with proxies. Finding reliable proxies can be a challenge, especially if you opt for free IPs. And even if you purchase proxies, you cannot always be sure how they perform. So whether you've got paid or free IPs, you should test them to learn about their speed, uptime, and what location your IPs come from. 
Testing IPs can help you save time because it reveals whether your proxies are effective enough for your tasks. If you're not convinced and need more arguments, in this article we named the main reasons for testing proxies and explained why they matter. 
If you're here to learn how to test proxies, you'll also find the answer. We listed five testing tools that can help you find out essential information about your proxies. These tools can reveal various information about your IPs and, most importantly, help you learn whether your proxies are effective.
Reasons for Testing Proxies
The main reason for testing your IPs is to ensure they're reliable and work efficiently. When you test proxies, pay attention to three main things:
Proxy location — to access geo-restricted content, you may need to use proxies from very specific locations. You should test your proxies to ensure that they come from a particular country. Otherwise, you may not be able to access the content that you need.
Speed — depending on your tasks, you may want to have the fastest proxies possible. For example, if you're copping sneakers, you'll need very fast IPs. Some proxies may be slow, and this could be the reason your tasks fail. Check your proxy speed to ensure your tasks won't be affected.
Uptime — if your proxies go offline, it may compromise your anonymity because your real IP address will be revealed. In this case, the target website may block your original IP, and you won't be able to access it again. Most proxy providers claim to have a high uptime, but you can only find out if that's true when you test proxies.
As you can see, proxy testing can protect you from unexpected and unpleasant surprises while you're working on important tasks. Testing your list of IPs only takes the friction of the time you would spend trying to fix the harm that poor proxies may cause.
5 Online Tools for Testing Proxies
You can find various online tools for proxy testing. These tools have different features and can reveal various information about your IPs. Some of the tools are paid, while others allow you to test proxies for free. 
Proxy Checker by ProxyDrop

ProxyDrop Proxy Checker allows checking IPs simply by copying and pasting the details of your connection and authentication. This tool is free and works on both Windows and Mac devices. 
With Proxy Checker, you can set a wanted speed limit, and if any of the proxies on the list don't pass the threshold, they'll be marked as failed. It also allows you to extract proxy status reports, so you can clearly see which proxies are functioning and which ones should be put aside.
You can even check if your proxies work on specific targets. This feature is especially useful because it can help you save loads of time. It's extremely relevant for free or shared proxies, where IPs often get blocked on popular target websites.
Pros
Can check proxy lists with up to 10 000 IPs at once
Works on all proxy types from any proxy server provider
Adjustable speed limit for up to 1 min
Provides proxy status reports
Free
FOGLDN Proxy Tester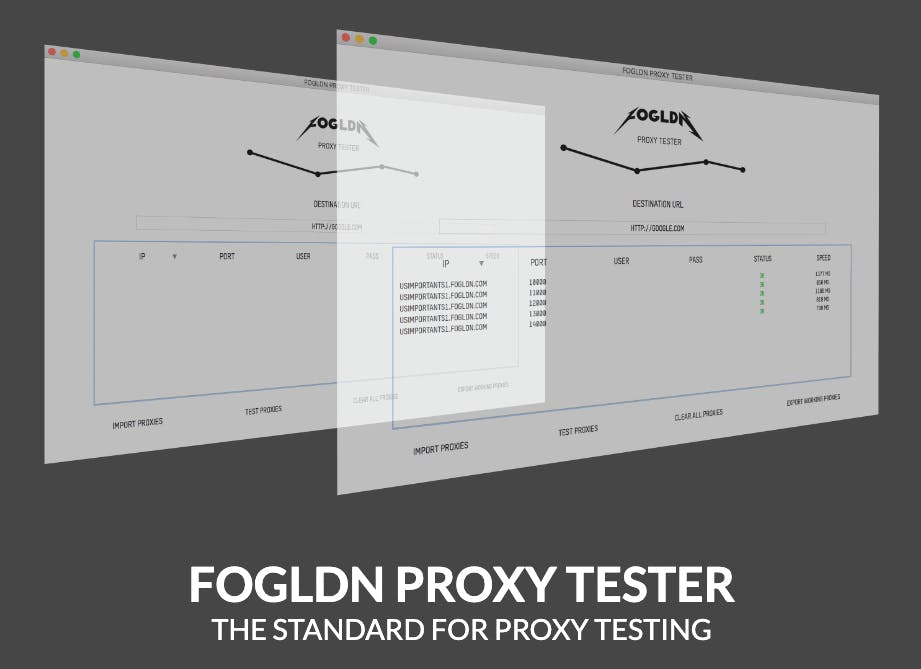 FOGLDN Proxy Tester is a free proxy checker. It can test unlimited proxies at once and works on sticky and rotating proxies. It allows exporting working proxies into a .txt file, so you can easily track which IPs are effective. 
This is one of the most popular IP testing tools, and it works on Windows and Mac. FOGLDN Proxy Tester currently supports domain IPs, user:pass authentication, and IP authorization.
Pros
Allows checking proxies for any website in the world
Works with all types of proxies
Free 
Cons
In case of a failed test, you won't know the reason
Doesn't reveal proxy location or type
NMap
NMap or Network Mapper is one of the longest-running online IP checkers. Developed in 1997, this is a free, open-source proxy checker that covers all the main features needed for proxy testing. 
Having been on the market for so long, NMap has gathered a large community of contributors with a high level of technical expertise. The tool is being continuously improved, so if you checked it before and couldn't find what you needed, it's always a good idea to come back.
A basic proxy scan with NMap can tell you whether your proxies are "alive" or "dead", meaning whether they're responsive or not. This tool can also tell you which ports are open on specific IP addresses and can even reveal what applications are being used on specific proxies and on what operating system the IPs are running.
Pros
An open-source tool with a large contributor community
The tool is being constantly improved
Many features for proxy testing
Cons
Only works on Windows and Linux OS
IP2Location Database
If you have a smaller proxy list, you can use an IP database, such as IP2Location Database.
This IP database can show you valuable information about every IP address on your list. This includes location, proxy type, whether it hides your original IP address, which company issued your IP, and even if the database can flag your IP as a proxy. 
IP2Location Database allows checking up to 50 or 200 IPs (if you register). To get full access to the IP database, you need to pay. 
Pros
Identifies proxy location, type, and ISP
Can tell if your IP can be identified as a proxy
Shows whether your proxy ensures anonymity
Cons
Doesn't show the proxy speed
Can't tell if your proxy works on specific targets
Hide My Name
Hide My Name allows checking multiple proxies simultaneously. To test proxies with this tool, you simply need to upload your proxy list. You'll then receive a report that contains all the most relevant information. Hide My Name reveals proxy type, country, connection time, speed, and level of anonymity. 
One of the main benefits of this IP checker is its ability to check the IP addresses quickly. However, the testing speed also depends on whether you're using a free plan or have a paid subscription.
Pros
Tests multiple proxies at the same time
Multithreading allows improving proxy verification time
Cons
Conclusion
Whether you're using free or paid proxies, you should check them before starting to work on any important tasks. Checking proxies is an essential step before using them because you don't always get what you paid for. Even if you think your proxy server works perfectly fine, you can only be certain if you test the IPs.
You can choose a proxy tester based on what you want to learn about your IPs. Testing proxies can help you see the location of the IPs, their type, speed, and uptime. Some IP checkers can even tell you what ports your proxies support and how your IPs work on specific targets.
Whatever proxy tester you choose, the most important thing is that you test proxies. Only then you can be certain that your tasks don't fail because of faulty proxies.