5 Best Bots for Supreme
Supreme is one of the most popular sneaker companies in the world. There's no surprise that their stock is often sold out in mere minutes for the supply cannot match demand at all. As a result, it's no surprise that people turn to Supreme bots as a way to cop some sneakers.
Some may even say it's the only way to cop some Supreme sneakers. Whether that's true or not, the Supreme bot industry has definitely taken a hint. Dozens of bots have been developed. Not one bot out shies away from calling itself the best.
We have decided to put their words to the test and create a list of the best Supreme bots. We will be going through them with high-scale copping in mind. Most, however, high-scale Supreme sneaker bots will be suitable for smaller scale activity.
The list of the best Supreme bots
Note that proxies will be required with any bot. Buying a Supreme bot without proxies is a fool's errand. You will get banned and blocked in minutes, putting your efforts to waste.
Best Overall: Forcecop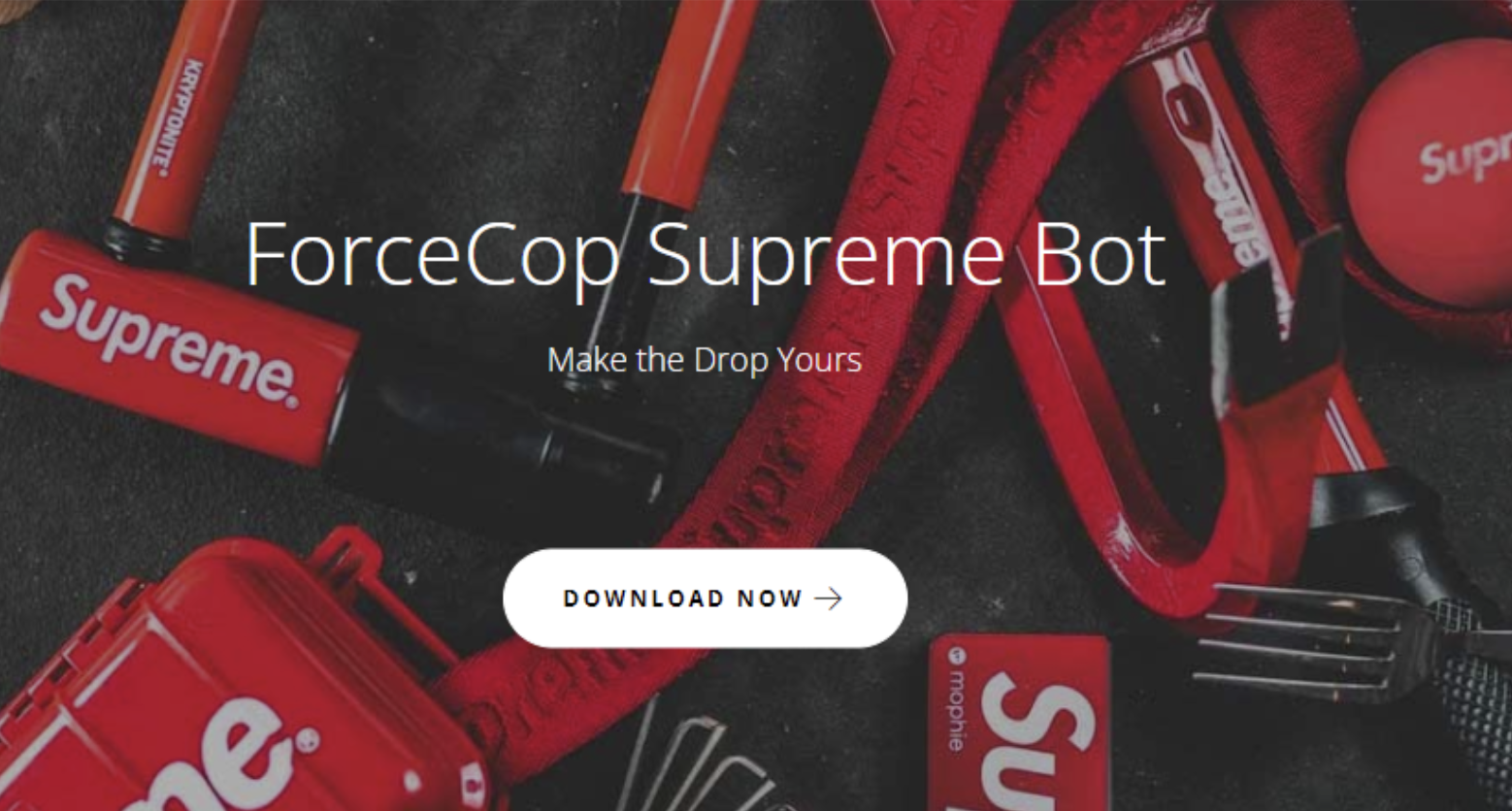 Pricing: Currently sold out. Previously was $59.99
ForceCop is tagged as the most advanced Supreme bot in the world. They have tons of features to back these claims up. Some of them are separated between the Starter and Pro versions. Both, however, are enough to start copping some Supreme sneakers.
Additionally, they have both an Android and iOS version of the bot. If you're really daring, you can even use the Chrome extension they have. We would recommend, however, to always use the desktop version if you want the best chance at copping Supreme sneakers.
As with any Supreme bot, Forcecop has focused the most on making automation easy. They even have a completely unique feature - automated checkouts. There's a captcha solver, keyword finder, and proxy support included as well. Basically, everything you need to cop some Supreme sneakers.
Finally, the developers have focused on user experience and interface. Even the least tech-savvy users should be able to figure out the sneaker bot, making it accessible to everyone.
Runner Up: Supreme Bot (now Super Bot)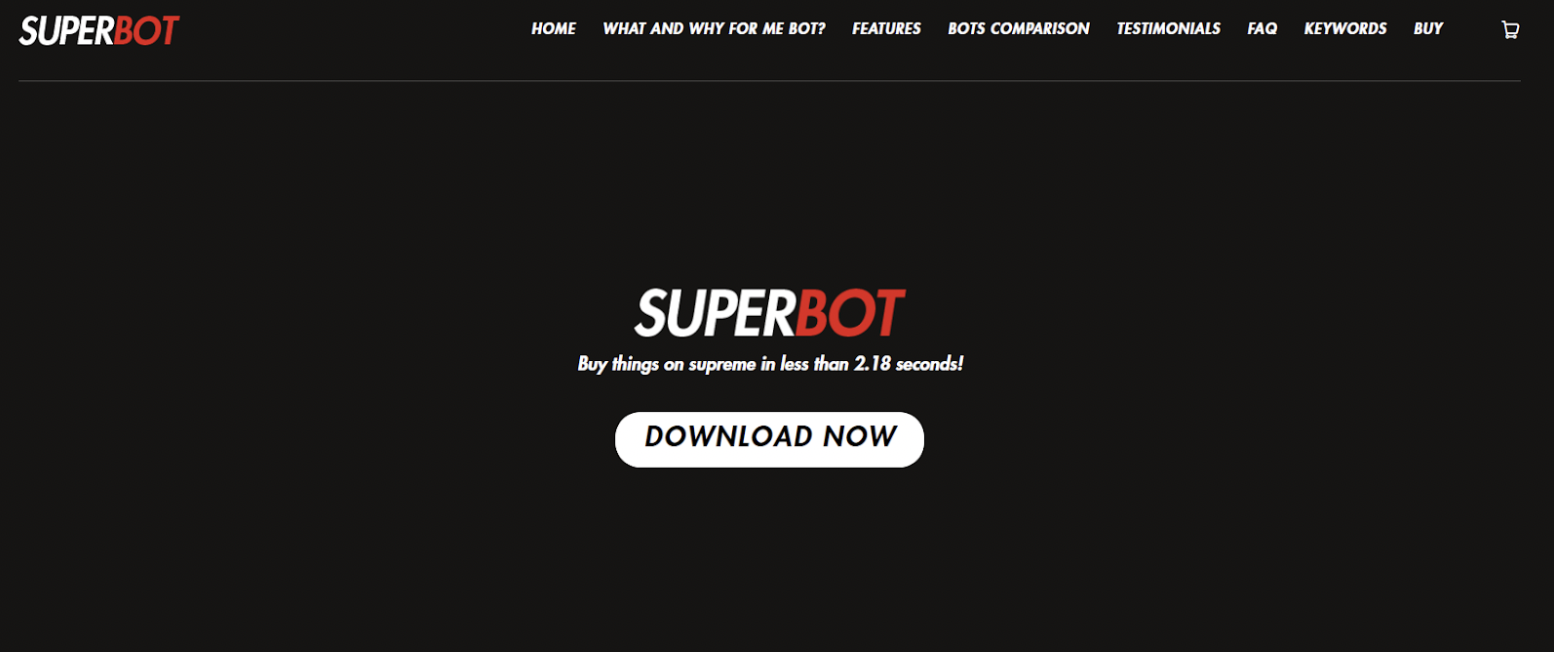 Pricing: $89.99 per 6 months.
Supreme Bot is exactly what the name implies - a Supreme bot. It's, however, marketed as the fastest bot on the market. Testing these claims is quite difficult so take it with a grain of salt.
While most other Supreme bots on the market are intended for an English speaking audience only, Super Bot has multiple translations. As such, it's more accessible to those from non-English countries.
Additionally, they have most of the features other Supreme bots have. They have restock monitors, automatic checkout, retries, keyword search, proxy support  etc. You're getting the entire package with a single subscription.
Interestingly, they only have a Chrome extension. There's no desktop or mobile version of Supreme Bot. You'll have to have the browser, install the Chrome extension, and try copping through it. We consider that a limitation, because any speed and effectiveness of Supreme bot is additionally limited by whatever issues a Google Chrome extension might have.
Best for Budget: ANB Supreme Bot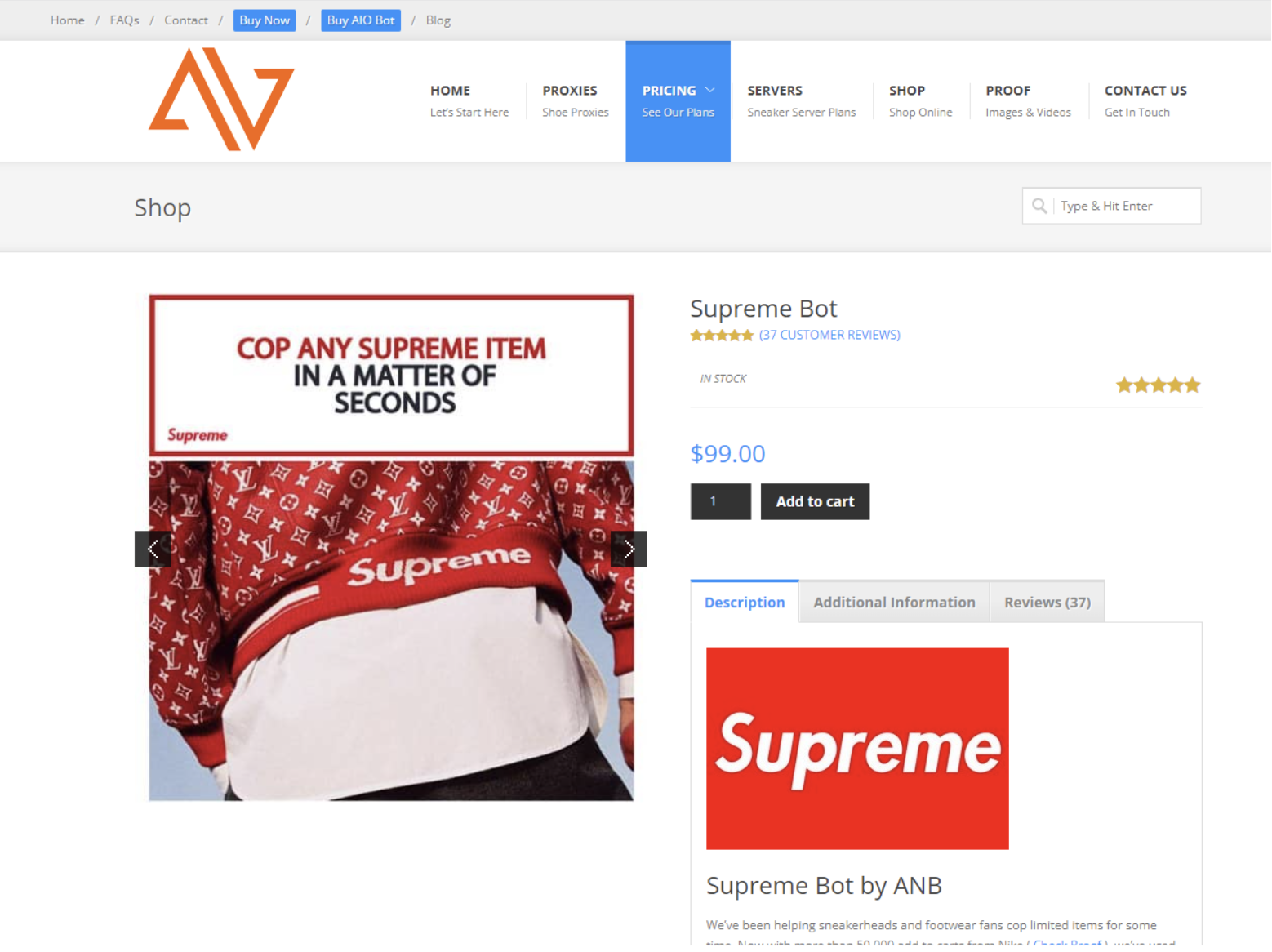 Pricing: $99
ANB is a developer of several bots. They are primarily known for their all-in-one bot. They do, however, have both a dedicated Nike bot and a dedicated Supreme bot.
The developers have a track record of creating some of the best bots in the industry. Their all-in-one bot consistently makes top rankings in listings for the best AIO bot. The Nike Bot they offer is no different as well.
As such, there's no surprise that ANB Supreme bot is a part of our list. ANB haven't slouched for the Supreme bot features, hosting an impressive list. They include some link monitoring technology, proxy support, and automated processing. 
Additionally, ANB Supreme bot isn't a Chrome extension. They are a desktop application, which means they aren't limited by Google Chrome or any other browser. As such, the capabilities for speed and connection are much greater, leading to better Supreme copping results.
There are two primary drawbacks to ANB Supreme bot. First, there's a limit on how many accounts you can have. Second, you are locked to one computer per license. Sharing this Supreme sneaker bot is nigh impossible.
It is, however, one of the most reliable and highest value Supreme bots out there. You also get the license for half a year instead of paying monthly like with some of the other Supreme bots.
Best for Monitoring: Cybersole AIO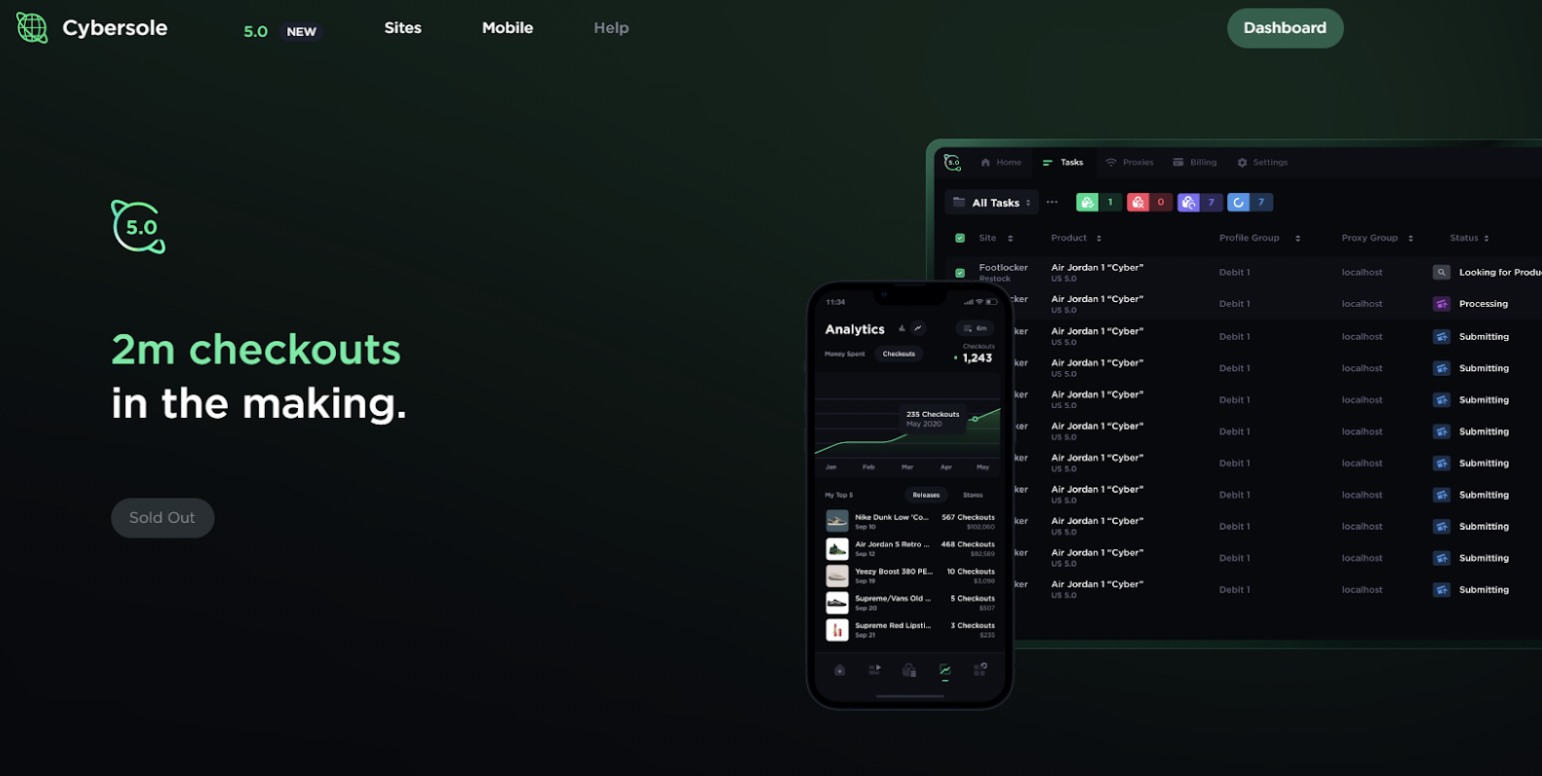 Pricing: Sold out.
Cybersole AIO is a generic bot that works on many websites, Supreme included. They have some of the sleekest and nice looking designs on the market with all the features to boot.
They have been in the all-in-one bot industry for over five years now. As such, they have collected lots of industry knowledge, which can be seen by how reliable the software and their service has become.
They truly earn their name as an AIO as well. Purportedly, the bot supports over 250 websites with some prominent names in the list. It functions as a Supreme sneaker bot just like any other dedicated one.
What truly makes it one of the best Supreme sneaker bots on the market are all the features that they have included. They have advanced monitoring that will allow you to get to restocks faster. Cybersole AIO also has a CAPTCHA solver proxy support, complete checkout control, smart automation, billing randomization, and support for EU regions to boot.
All in all, it's one of the best Supreme bots money can buy. Unfortunately, they are quite frequently out of stock and not accepting new people. So, you'll have to keep an eye on availability.
Best for Flexibility: Kodai AIO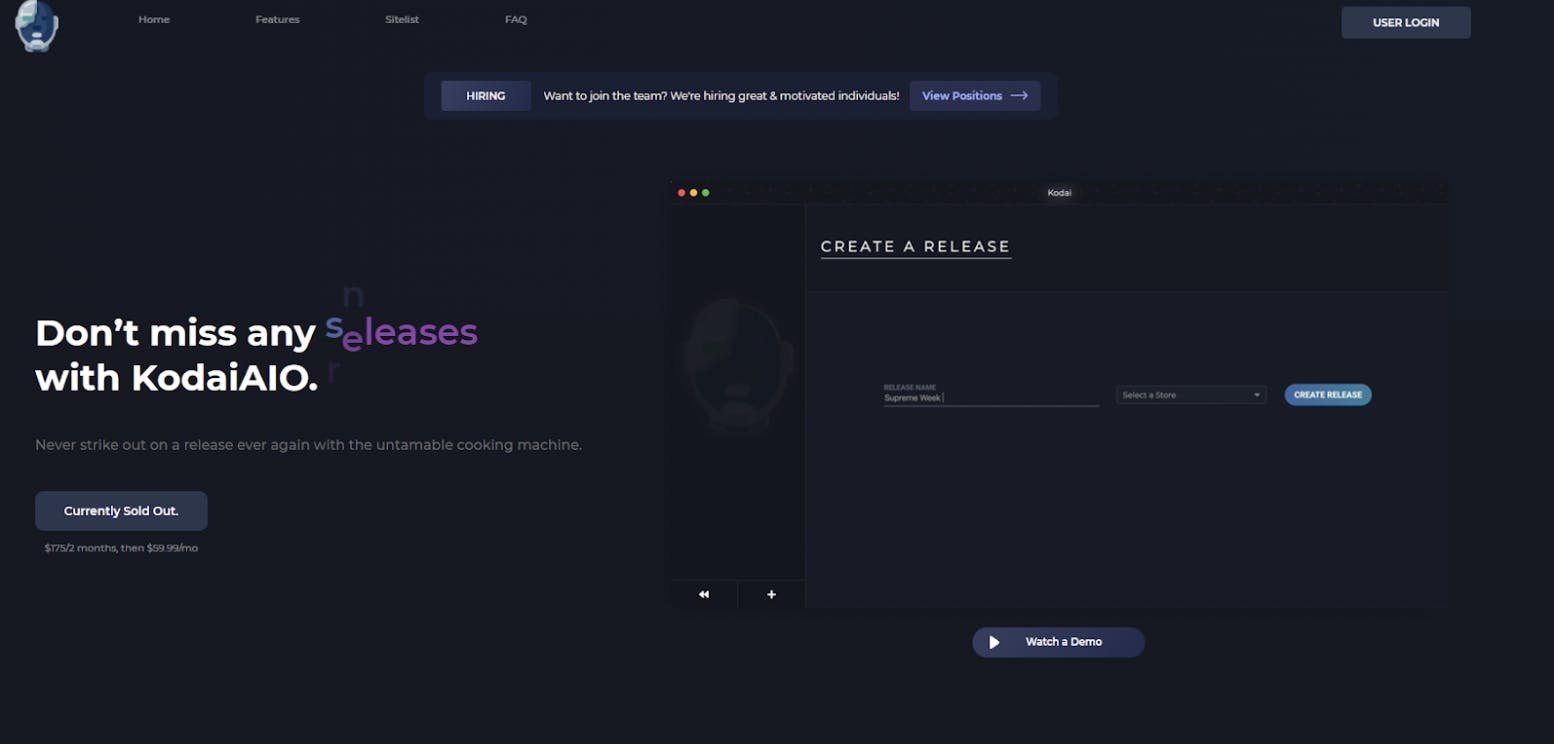 Pricing: $175 for 2 months, then $59.99 per month.
Kodai AIO is another bot that works on a wide variety of websites. As such it's perfect for all kinds of sneakers, Supreme ones included. It is an exceptional bot for those looking for flexibility and adaptability.
As a Supreme Sneaker bot, Kodai is brilliant. There's a ton of flexibility for all operating systems as it works on both Windows and Mac natively. While there's no Chrome extension, you'll be able to take advantage of full computing power without having to rely on a browser.
Additionally, they have heavily focused on user interface and user experience. For a Supreme sneaker bot, the combined beauty and ease of use is unmatched.Nearly every other sneaker bot looks like something out of the late 90s. Kodai is slick and easy to use, even for complete newbies.
It also has many of the essential features that are necessary - proxy support, human imitation, remote desktop support, and everything you need for copping Supreme sneakers. While there's nothing unique, Kodai is exactly what it's supposed to be.
All in all, if you can get a license, Kodai seems to be worth the money. Even if you want to cop Supreme sneakers exclusively, there's still more than enough value to go around.
Proxies for Supreme sneaker copping
Whichever bot or Chrome extension you pick, be it one from our list or anywhere else, proxy support is a mandatory feature you should look for. Without it every bot with keyword finder and all the other fancy features is worth more or less nothing.
Proxy support is necessary, you see, because sneaker sites aren't all onboard with botting. Most will try to outright ban any suspicious activity. If your IP address is blocked, your Supreme sneaker copping success rate will be equal to 0 as access to the website will be restricted.
Proxies offer a way out of the block by changing your IP address. Proxy support, as such, is a necessary feature for any long-term copping. Additionally, Supreme is especially stringent and bans bots for even an ounce of suspicion.
In simple terms, a proxy is just another machine that relays connection requests in your name. Only that it never relays the source of the connection. Proxies make it seem as if they are the source.
For the best copping results, residential proxies should be used for generic websites. For Supreme sneakers, however, we recommend using Supreme proxies. They are essentially residential IPs that have been vetted and selected for copping. As such, you'll likely get much better results with Supreme proxies.
The bottom line is that a bot that doesn't have IP changing features isn't worth it. Proxies are an absolute necessity. If you don't want to waste hundreds of dollars, pick up Supreme proxies and then you can start copping limited edition sneakers with ease.
Conclusion
We have outlined the best Supreme software for sneaker copping. You should, however, always add a little of your own research. Supreme is a brand known for updating their website frequently. Bots always have to play catch-up, so the listings and rankings may change over time. Always keep an eye for new Supreme bots and check existing ones.