Best Sneaker Cook Groups 2021
If we had to pick the simplest way to significantly improve your sneaker copping game, it would be joining a cook group. These groups are tremendous for knowledge-sharing, bot and proxy reviews, early links and much more. 
There are, however, hundreds if not thousands of cook groups scattered around the internet. Some of them have free access. Most other cook groups are accessible only after payment. 
While free ones might not be much of an issue, paying for access and finding out that there's nothing good going on never feels great. To make things easier for you, we have decided to create a list of the best cook groups for those looking for insider information. 
What is a cook group?

If you're wondering what exactly is a cook group, it's a semi-secret community of entrepreneurs and hustlers who are heavily involved in copping sneakers. Usually, it's the best place to share knowledge, compare bots, and talk about upcoming releases or shock drops.
Yet, you won't find them on an online forum or any generic website. They avoid the limelight and instead create Discord servers or Slack channels, which can only be accessed through invitations.
Part of the reason any cook group is so secretive is because the industry is so competitive. Limited releases and low amounts of stock create a "first come, first serve" business model. Using Discord servers or other free software tools allows sneakerheads to minimize the exposure of important information for the competition.
Best paid cook groups
Steady Soles
Pricing: $25 per month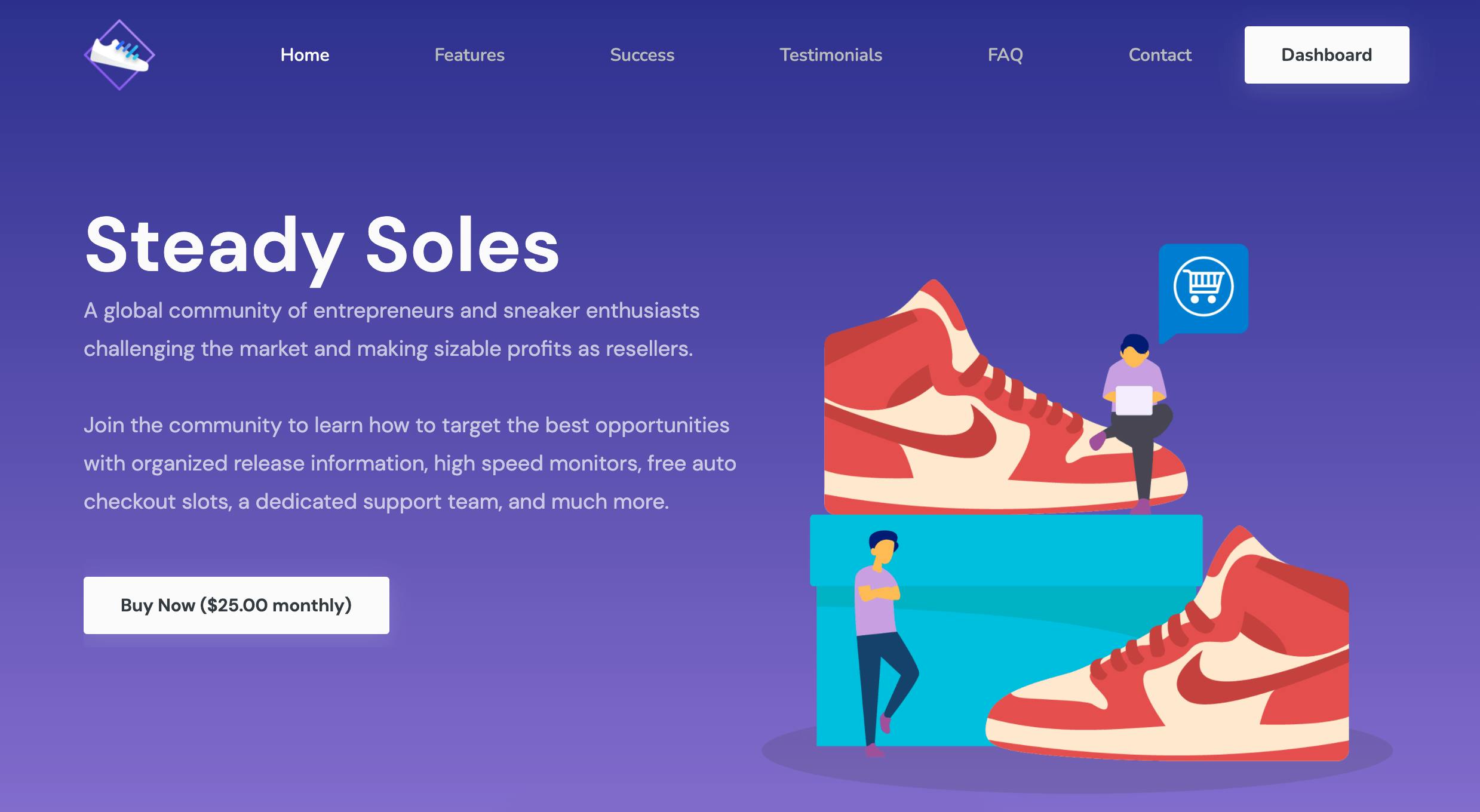 Steady Soles is one of the most popular and well-known cook groups on the entire internet. They are considered as one of the most reputable cook groups as they have been operating for quite some time and have a few big names supporting them.
In fact, Steady Soles have expanded outside of being a simple cook group. They provide a multitude of tools such as free auto checkout spaces and the fastest screens. Additionally, buying a membership to Steady Soles provides access to an exclusive free tool set - Steady Tools, Steady Fill, and Steady Scripts.
Steady Tools
It's a complete, all-in-one tool box that everyone copping sneakers can use. Steady Tools includes a:
Captcha Tool,
Proxy Tester,
Profile Converter,
Proxy Generator,
Spoof Browser.
All of the software included in the package is irreplaceable and has been used by numerous people to cop incredible amounts of sneakers from splash pages.
Steady Fill
Steady Fill is a simple, all-in-one data entry automation tool. It's developed as a Google Chrome extension. It can automatically fill in Google Forms, DIY Fields, perform autocheckouts, etc. Additionally, it supports hundreds of sites, greatly reducing the amount of time wasted doing manual work.
Steady Scripts
Steady Scripts is the final extension provided for free if access to the cook group is purchased. It is a free in-house invite joiner, Nitro Claimer, and Link Opener with several additional features:
Webhook support, 
Burner support, 
Blazing fast speeds.
Arrow Alerts
Pricing: $30 per month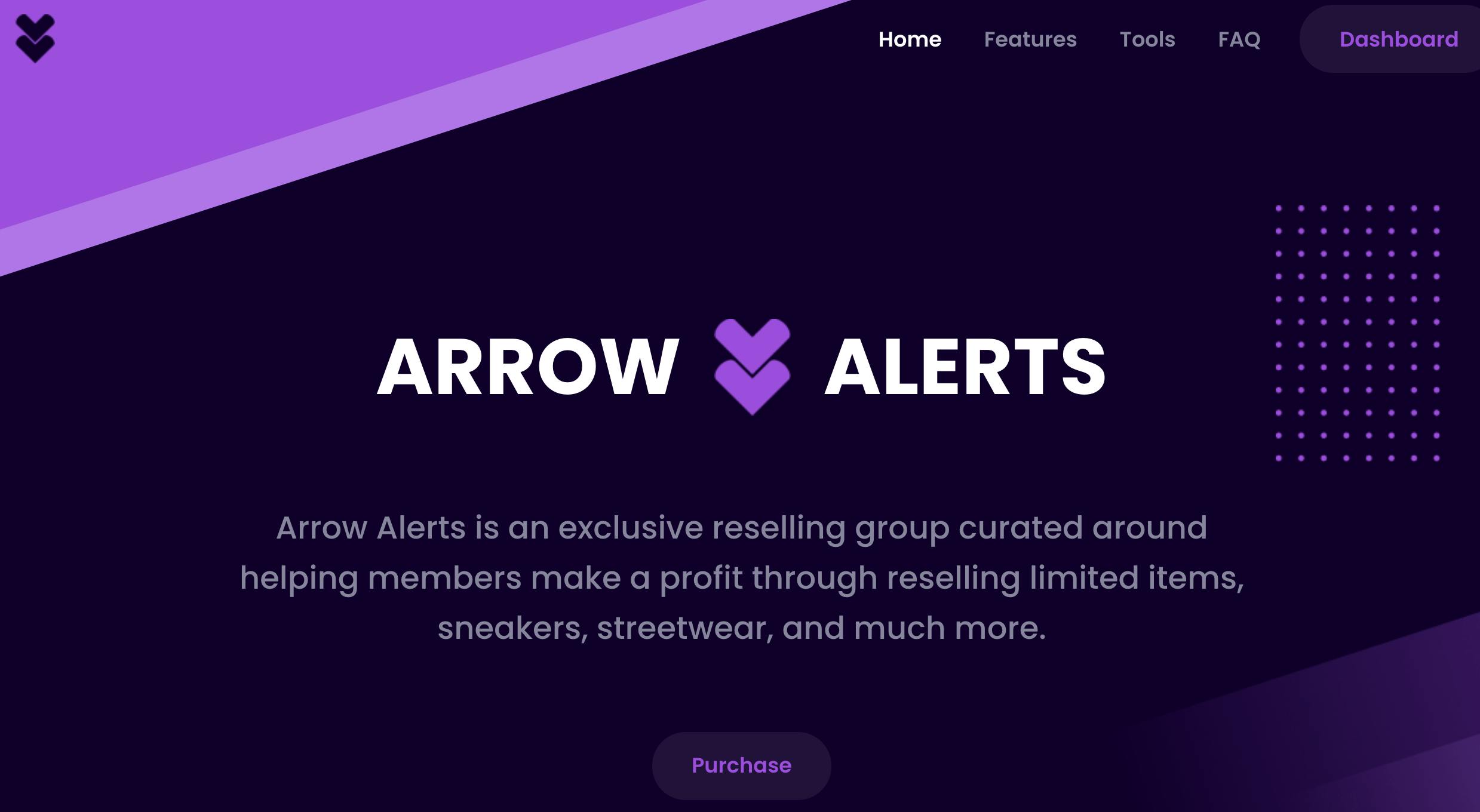 Arrow Alerts is another established cook group that has expanded into something more. It's now a dedicated reselling community that focuses on limited edition shoes and clothing, but isn't limited to just those products. As with Steady Soles, it provides numerous additional benefits for those who join their community.
These benefits include a set of tools that can be used in the copping game to great results. They provide the Arrow Toolbox, an all-in-one package, Monitor Deck, a channel monitoring tool, Arrow Fill, a form filling automation tool, and AQT Software, a bot task management system.
Arrow Toolbox
As an all-in-one solution, the Arrow Toolbox provides a ton of small tools, each of which can be used to make the copping process easier. The toolbox includes:
One-Click Gen
Account Gen
Proxy Gen
Auto Link Opener
Spoof Browser
Sales Tracker
Profile Converter
Cookie Gen
VCC Gen
Server Gen
Captcha Solver
Bot Manager
As you may see, there's enough software in the package for even the most experienced sneakerhead.
Monitor Deck
Instead of using Discord to monitor drops and important updates, Arrow Alerts have developed their own solution. They claim it's faster than any Discord monitor with less downtime. Additionally, it's customizable, making monitoring a lot easier.
Arrow Fill
Just like Steady Fill, Arrow Fill is a solution to automate form filling. It is intended to reduce the time spent typing in the same information and to increase the likelihood of copping more sneakers. It currently includes Shopify and Stripe autofills with the ability to write custom bot scripts.
AQT Software
Finally, Arrow Alerts include a bot scheduling and task management tool. It is supposed to be a one-stop solution for bot task management, if you are one that uses many at once.
Jupiter Notify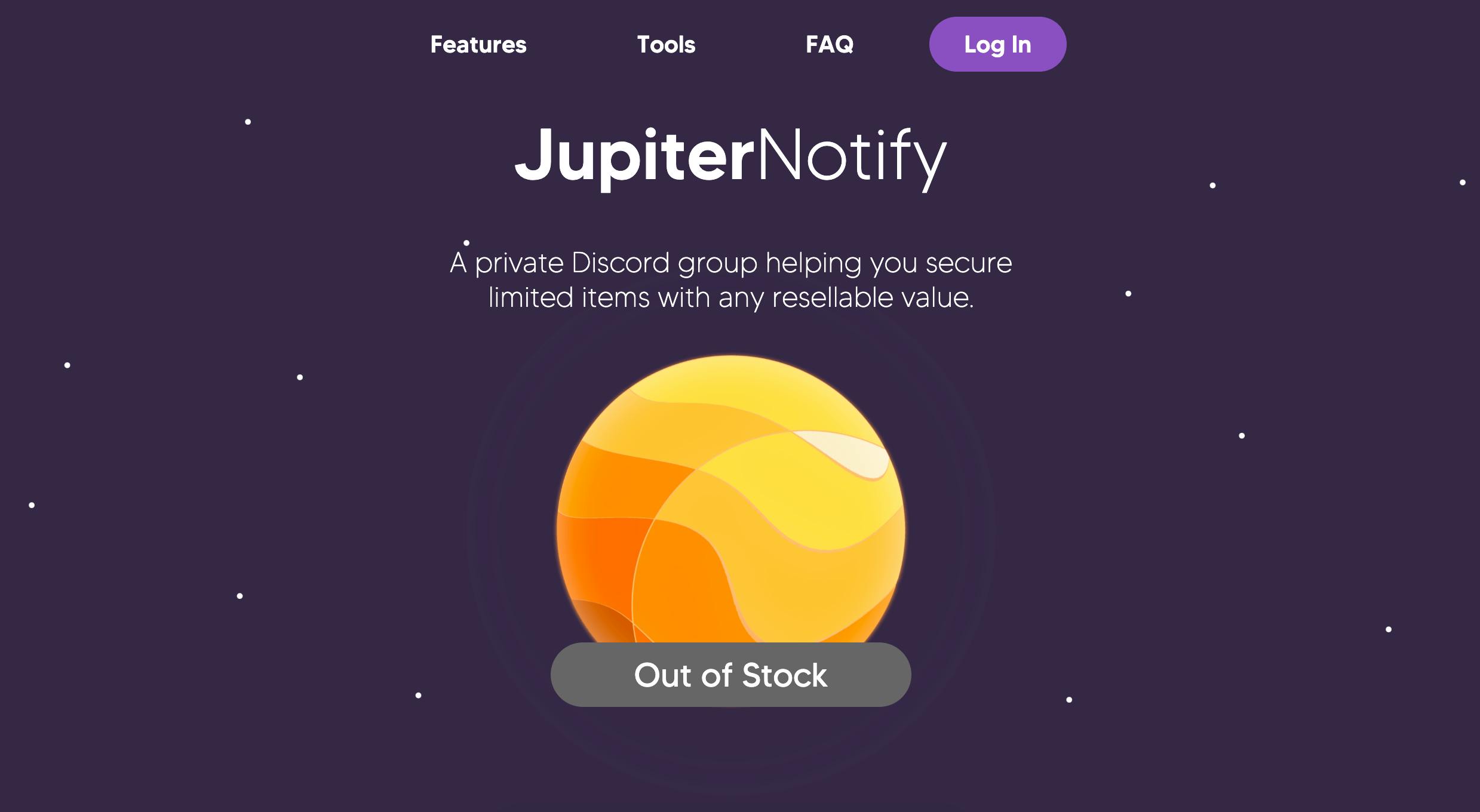 Jupiter Notify is one of the most exclusive groups. They frequently go "out of stock" for their invitations, which is the case right now. They have, however, proven themselves to be one of the top cook groups in the market.
Just like the groups above, Jupiter Notify provides a lot of additional benefits for those who join. Outside of providing essentially identical software to the others in the list, they also have a lot of community-driven benefits. Members get access to raffles, giveaways, and specialized sneaker and bot flipping advice.
Best free cook groups
Space Notify
Space Notify is a Discord-based community that is based on flipping and reselling. While they used to focus on sneakers only, now they do Pokemon cards and many other things that may have resale value.
They do not provide any fancy software, outside of a powerful website and channel monitor. It provides monitoring for over 100 websites 24/7, allowing users to get vital information about upcoming drops as quickly as possible.
Additionally, the Space Notify community has created extensive guides for those looking to take advantage of profitable releases. Combined with all the information and predictions shared on the channel, it proves to be the perfect starting point for newcomers to the copping game.
There's a lot of community-driven benefits as well. Exclusive group buys and special deals are a frequent occurrence for Space Notify members. Finally, a dedicated support group is ready to help those who want to get their feet wet in the sneaker copping game.
Anon Notify
Another Discord-based community is Anon Notify. Unlike most other cook groups, it's a lot more focused on the social aspect. While they do provide monitoring, there's not much else going on software-wise.
They do, however, have a lot of guides and in-channel support available. Anon Notify has not only in-depth release guides, but ones for all of the sneaker copping bots on the market. Additionally, the community and support staff are always ready to help newcomers to the game get better at snagging limited release items.
Finally, it should be noted that Anon Notify, like any other cook group in the list, has expanded past sneakers. The community is highly dedicated to flipping in general, whatever the item may be. So, if you ever want to venture outside sneakers, Anon Notify has got you covered.
Empire (UK/EU)
While Empire is a worldwide Discord-based cook group, the community has a strong focus on the UK and EU markets. Other than that, Empire functions like most others. However, they do provide some monitoring capabilities.
Additionally, giveaways for bots are a frequent occurrence for those who want to minimize spending to the maximum. While not paying for a bot subscription might be out of the question for sneakerheads, getting one for free never hurts.
Finally, the group heavily dedicates itself to analyzing proxies. There are frequent group buys and other discounts for those looking for cheaper proxies.
Conclusion
Joining a cook group should eventually be done by everyone who is serious about the sneaker copping game. Even the free ones provide such treasure troves of information, software, and opportunities that missing out on joining is essentially cutting down ROI in the long run.