The Best 7 Shopify Bots of 2022
Shopify is one of the largest ecommerce integration tools on the market, rivaling platforms such as WooCommerce. Sneaker websites are a big part of the Shopify audience base, which makes the platform attractive for those looking to cop some shoes.
Shopify bots are intended to work on all websites that use the integration software. While there may be differences between specific Shopify bots, the main idea is that such software would be able to cop sneakers from most of the websites.
Additionally, Shopify bots usually have a lot more features than others. Developers have an easier time creating workarounds and other features since Shopify is essentially boilerplate software that's quite similar across websites.
What are Shopify bots and how do they work?
Shopify bots are software that many people use to snag sneakers, especially limited edition ones, whenever they drop. Rather obviously, they are software that's mostly used for the Shopify brand websites and stores. There are, however, exceptions with an all-in-one bot or two.
Sneaker bots in general are used as a way to automate the entire purchasing process. Users buy a sneaker bot, set up tasks, and let the software run and do its thing. Some sneaker bots even have drop monitoring features, which automatically start purchasing shoes once they detect that a restock has happened.
Additionally, sneaker and Shopify bots in general can usually run multiple tasks simultaneously. Imagine that instead of having to input all the details manually, you get it done automatically and on several tabs at once. Clearly, copping sneakers would be a breeze with such bots.
Due to the immense popularity of Shopify bots, copping sneakers without them is nearly impossible nowadays. It takes just a couple dozen of people using them to wipe out any limited edition stock off of any drop.
There has to be some caution exerted when using Shopify bots, though. While they are not technically illegal, using them is against the Terms of Service of most websites. As such, it's not entirely surprising that they opt to ban bots if they detect them. There are workarounds, though, for bans, such as proxies, which we will discuss later.
Top 7 bots for Shopify stores
ANB AIO bot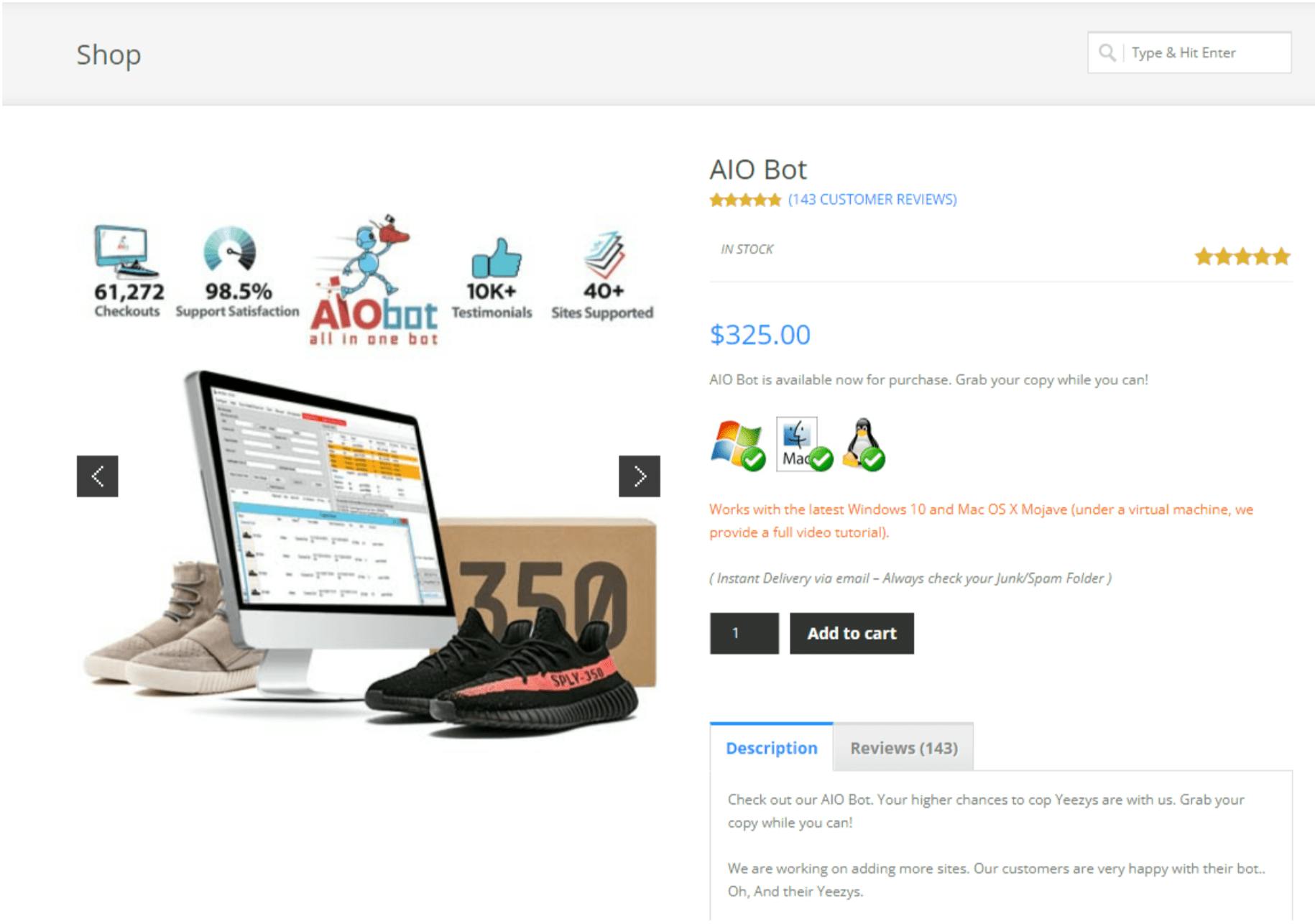 Pricing: $325 with updates for 6 months.
ANB AIO bot is a long-stay in the sneaker copping industry. It doubles as both a Shopify bot and as a more general purpose automation tool. This bot comes from the developers of the well-known Another Nike Bot (ANB).
It has the advantage of being a bot that works on multiple websites, including most of Shopify. Additionally, it has cross-platform support, meaning you'll be able to run in on Windows, Linux, and Mac without issue.
ANB AIO bot is highly focused on functionality over form. While it looks outdated, it definitely doesn't run as such. This Shopify bot can create up to 100 accounts and run tasks for them simultaneously without much issue. 
Additionally, there's also the added benefit of express checkout and auto retry that lets you experience a completely hands-free shopping experience. Finally, you even get a keyword monitoring option to hop onto drops faster than the competition.
All in all, ANB AIO is a great bot if you're looking to cop sneakers from a wide variety of websites. If you're just looking for Shopify bots, ANB might be slightly overkill, although it can still definitely work well.
Dashe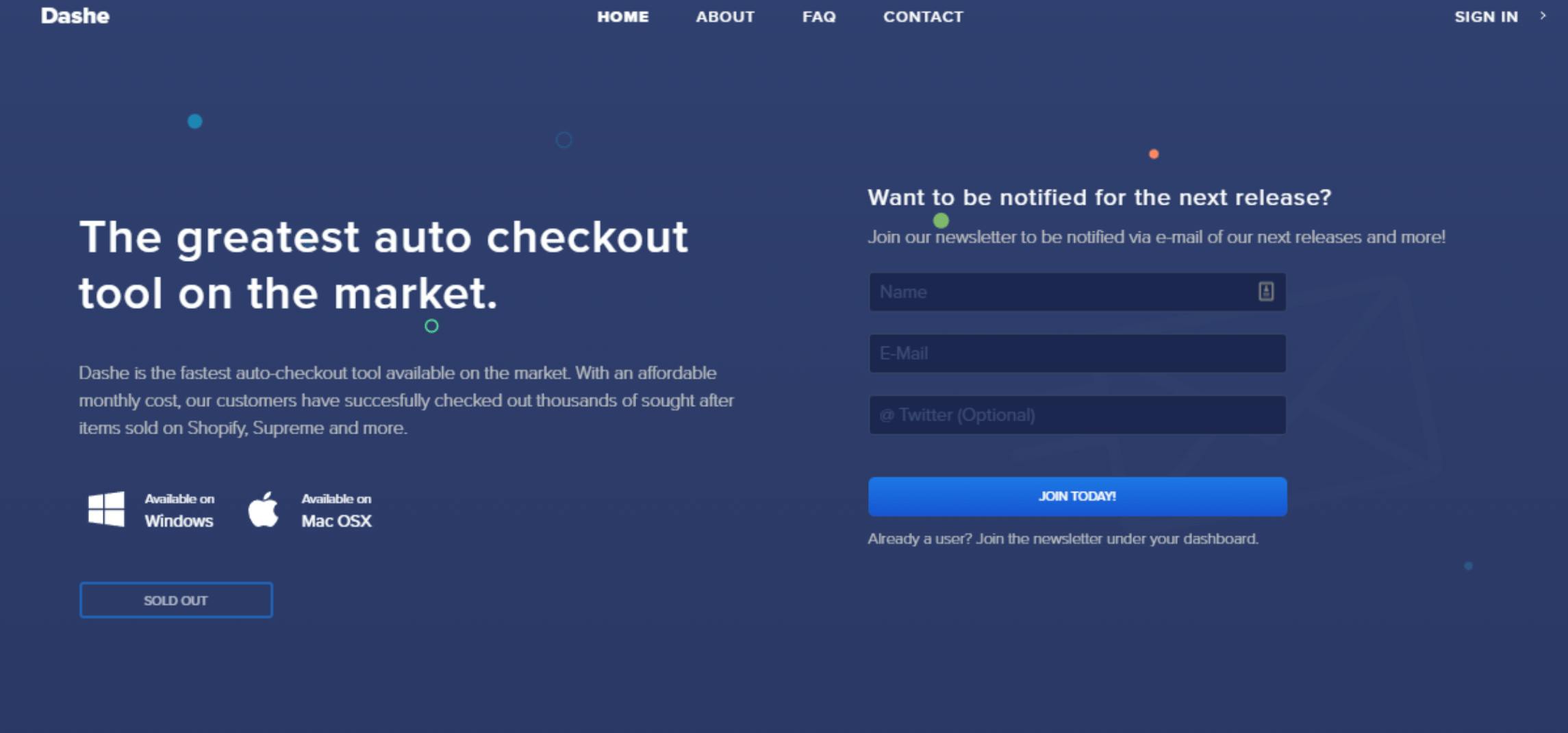 Pricing: Out of stock. Previously $50 per month.
Dashe is one of the more unique Shopify bots. In fact, it doesn't even call itself that. It's, rather, "the greatest auto checkout tool on the market". No matter how you twist it, it isn't a far cry from a Shopify bot.
Just like ANB, Dashe is actually more of an all-in-one than a dedicated Shopify bot. It works on more websites such as Supreme and Yeezy Supply.
They have a few important features up their sleeve. The developers of Dashe seem to have invested a lot of time into mimicking human behavior. As such, the bot seems to trigger protection systems more rarely than others.
Additionally, they are constantly pumping out updates to keep ahead of the game. Unlike many other bots in the industry, they do it completely for free, as long you pay the subscription fee.
In the end, Dashe is a great Shopify bot that's worth investigating for nearly anyone looking to add sneakers to their collection.
Project Destroyer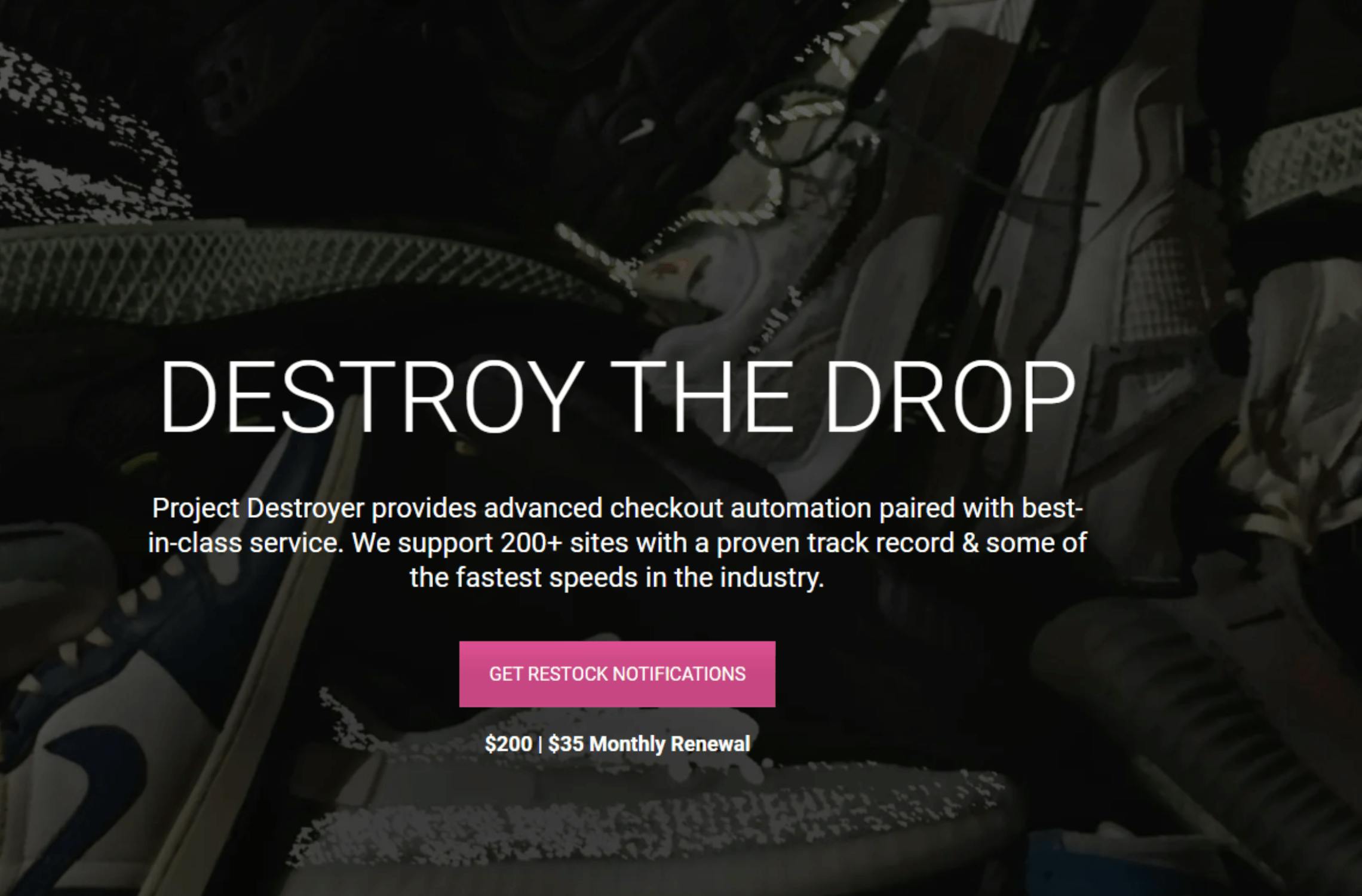 Pricing: $200 for the license and $35 per month for renewal.
Project Destroyer definitely ranks as one of the top Shopify bots on the market. Even if they are more of the all-in-one-flavor, the software seems to do its job perfectly well on Shopify stores.
Yet, they don't call themselves a bot at all. It's, yet again, advanced checkout automation. Although every feature and everything they do resembles a Shopify bot.
Nevertheless, a lot of the features included will help you cop sneakers with ease. They have a couple of unique ones such as the proxy delay switch and lots of the usual suspects such as mass task editing and CAPTCHA solving.
From the looks of it, Project Destroyer is definitely one of the most advanced bot solutions out there. To add to the entire feel of the project, they have opted for a modern and sleek design. The only drawback, outside of it being frequently out of stock, is that it's limited to Windows systems.
So, if you're looking for an advanced bot that works on all Shopify stores, Project Destroyer is definitely one of the better options out there.
Ghost AIO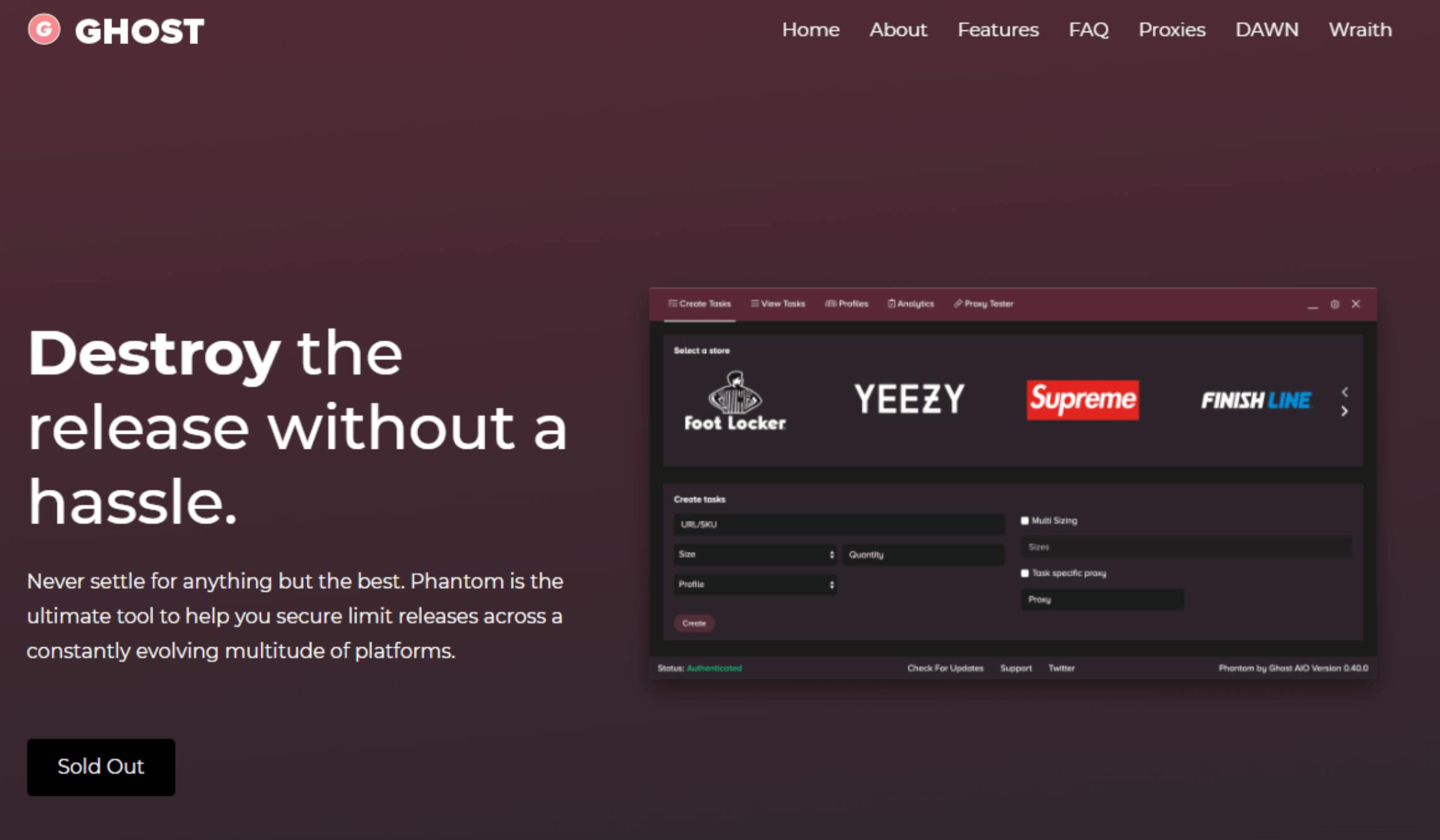 Pricing: Sold out. Usually $300 for 6 months.
Ghost AIO is one of the more popular and long-standing bots of the industry. It's considered one of the more reliable and easy-to-use bots on the market.
As a bot, Ghost has everything you'd ever need. A simple and easy-to-use design, unlimited tasks, real time notifications, native analytics, etc. It also has integrated a multithread system that makes better use of CPU cores when running multiple tasks simultaneously.
Due to its all-in-one nature, Ghost supports most of the important companies. These include Footsites, Shopify stores, Supreme, and many others. As such, you're getting a little more than your run-of-the-mill Shopify bot with Ghost.
From what we've seen, it has gained notoriety and popularity, especially among resellers and those who want to grab limited sneakers. Due to all the speed features, it seems to have a pretty good success rate at copping.
So, if you get your hands on it, Ghost is definitely worth a shot, whether you're looking for a regular bot for Shopify sites or for an all-in-one.
Sole AIO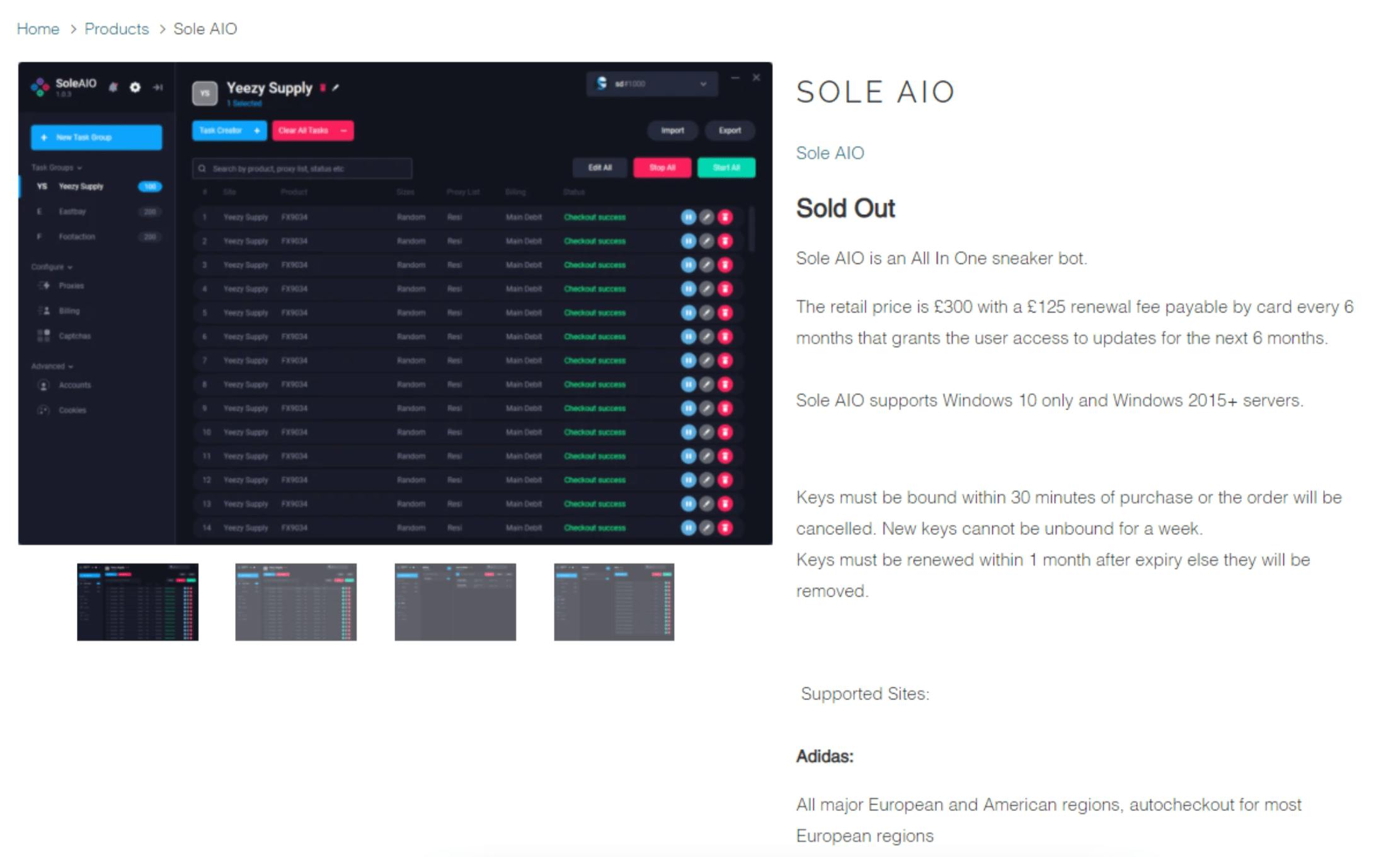 Pricing: Sold out. Regularly priced at £300 (~$400) with a £125 (~$165) renewal fee payable by card every 6 months.
Sole AIO is another bot that covers more than just Shopify sites. Yet, it has proven itself to be a formidable competitor to almost all other Shopify bots.
Due to its all-in-one nature, Sole AIO supports most of the sites that drop sneakers. It does seem to focus more on supporting the European region rather than the US, though.
Nevertheless, you'll be getting a lot of useful features with it. One of the standout ones is the link monitoring system that will allow you to keep track of drops and restocks a lot faster than with most competitor bots.
With this feature, you'll be able to input URLs of pretty much any Shopify websites and be instantly notified once they're restocked. Coupled with all the automation you'll be able to get sneakers with breeze.
Clearly, Sole is one of the best sneaker bots out there. Unfortunately, it seems to focus more on serving the European market, which might be an issue if you're from the US.
Cybersole AIO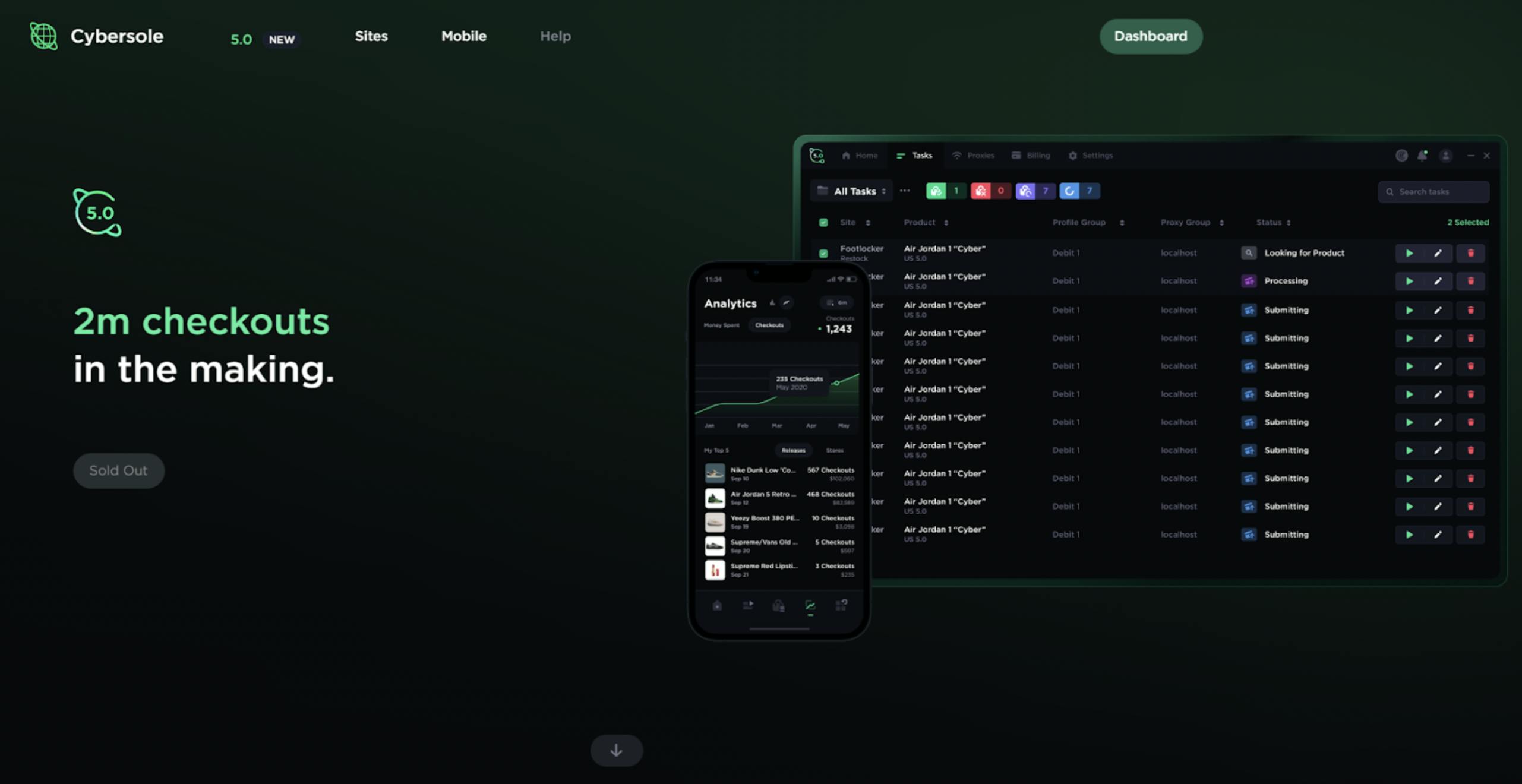 Pricing: Sold out.
Cybersole is yet another all-in-one bot. They cover a multitude of websites, including Shopify sneaker stores, Mesh sites, and many others.
One of their standout features is the completely accessible and easy to understand automation with features such as auto checkout. You can easily see entire workflows for tons of tasks at once. You won't have to worry about missing out on something important.
Additionally, they include a lot of analytics for those who want to squeeze out every bit of optimization. Finally, there are some randomization features included that should improve the chances of success.
There has been clearly a lot of time invested into developing the look and feel of the software. It stands out even among the top sneaker bots of the entire market due to the UI and UX decisions made. It even has a mobile app for remote control of the bot!
So, if you want a bot that will cover all Shopify sneaker stores, Mesh sites, and make copping a breeze, Cybersole is definitely a great choice. It, unfortunately, is often out of stock, which can make the entire endeavor challenging.
Kodai AIO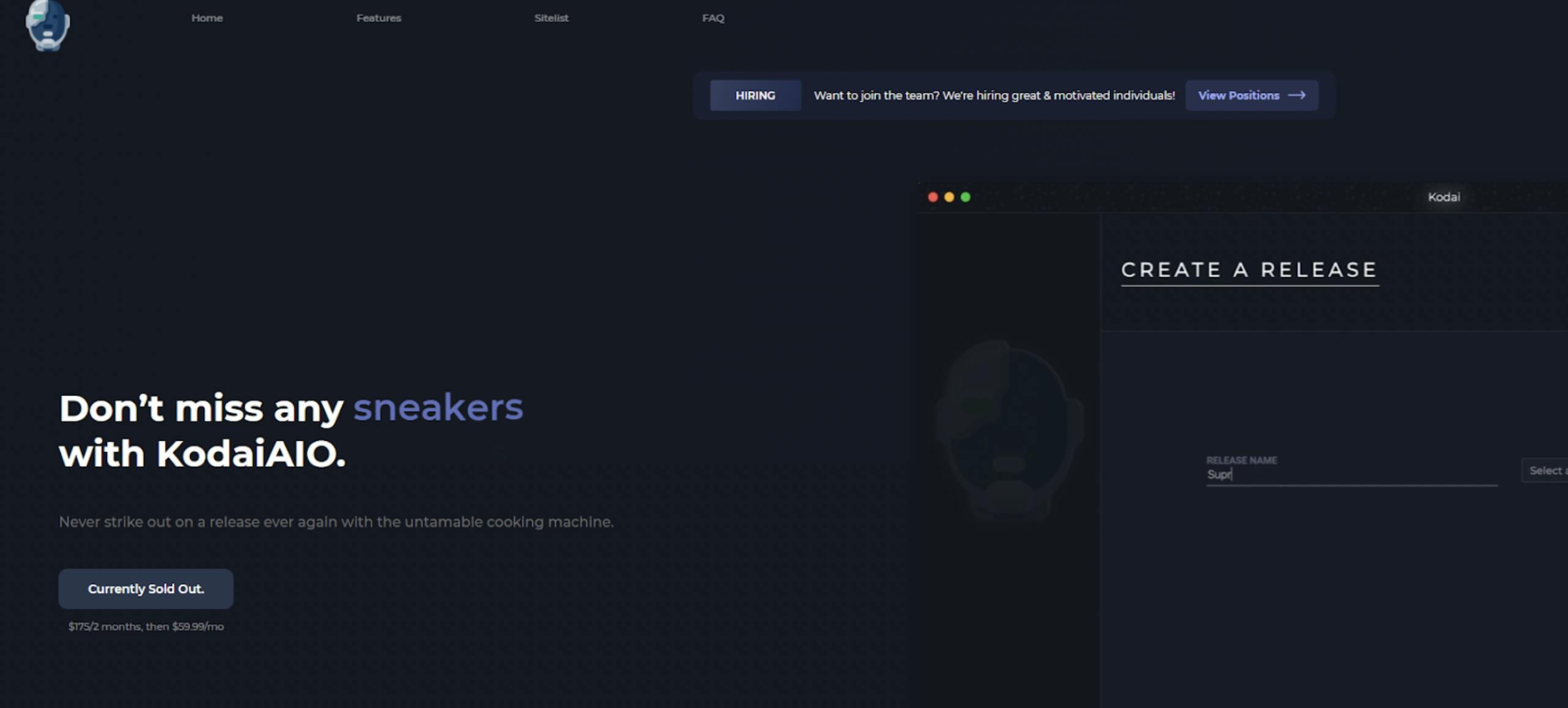 Pricing: Out of stock. Regularly $175 for 2 months with a renewal for $59.99 per month.
Kodai AIO is another extremely popular sneaker bot. Just like with many other entries in this list, it isn't limited to the Shopify store. It will cover websites such as Yeezy Supply and many others.
It ranks as one of the top Shopify bots because it's so simple and easy to use. Just like some of the other entries, they have invested a lot of time into delivering something with an easy-to-understand interface. They have even set up a personalized dashboard for easy tracking.
Additionally, they have included support for both MacOS and Windows. However, not only is it just regular support, but there's also a lot of optimizations done in order to support lower-end systems. You won't need a NASA supercomputer to run Kodai.
As such, it's a great sneaker bot for those who can't invest a lot into computer power. Even with a lower-end machine it will cover the Shopify store websites and be able to snag you some great sneakers.
Free Shopify Bots
Unfortunately, there are no good bots for Shopify sites for free. As there is a huge financial incentive for copping, most developers opt to create a paid sneaker bot.
Even if you were to find a free sneaker bot, it's likely to be outdated or unsupported by the current versions of Shopify sites. There would be a lot of inefficiencies and unoptimized features. A working one would likely still get caught frequently and beaten by a paid sneaker bot.
There's always the option of creating your own sneaker bot, though. You would be able to include a lot of the fancy features such as auto checkout or even a web-based application, and optimize them yourself. Be warned, though, that creating and maintaining a Shopify sneaker bot requires a lot of time and dedication.
If you are looking for a starting ground for a Shopify sneaker bot, there's no better place to look than Github. You'll likely find at least some pieces of code that can form the foundation of your sneaker bot.
Proxies for Shopify bots
Proxies are essential whether you're using a Shopify or a Footsite bot or any other type of automation software. All websites are wary of bot traffic and they won't hesitate to ban your IP address if they think you're using automation.
Proxies solve these issues by giving you an easy way to switch IP addresses. While there are many types of them on the market, the best suited for the task are sneaker proxies. These are IP addresses that come from regular devices (e.g. someone's personal phone, tablet, or computer), but that are also vetted for speed and quality.
All of the bots we've outlined in the list above have native proxy integration. It isn't there for any random reason. Sneaker copping is competitive and without proxies you wouldn't be able to stay in the game for more than a few days.